Immediately upon my arrival in Israel, I passed through the checkpoints and felt at home in the less-visited region of Palestine. Never have I made such a good choice and never have I been met in a country with so much welcome! For those planning a trip to Israel, an open-minded visit with the neighboring region of Palestine is a must. Something surprising about this country is the density of its population. The West Bank has a population of 1.7 million, but is only slightly larger than the state of Rhode Island. It is entirely feasible to stay in just one city and see all of the West Bank in day trips. I found Bethlehem to be a wonderful place to make my home base.
A short taxi ride away from Bethlehem is the ancient site of Herodian. Described as a "palace-fortress", Herodian was first built in 40 BCE. Later, in 132-135AD, the fortress was used as a stronghold during the Bar-Kochba Revolt against the Romans. Don't worry about reading up beforehand though, the site provides excellent informational brochures and signs. Even for those that aren't as interested in the history, Herodian is full of aesthetic beauty with its impressive ruins and exciting tunnels, all blending together in the same tan-red color.
Even though the cities are dense and close together, it is possible to escape to greener landscape with just a ten minute drive. In June of 2014, just weeks after I had visited it, the village of Battir was named by UNESCO as a World Heritage Site in Danger. Unlike Herodian, which is no longer inhabited, Battir flourishes in a way that makes it like a living museum. The heart of Battir is comprised of farming terraces watered by a 2,000 year-old irrigation system. Continue on out of the town for a leisurely 2-hour hike through the valleys and farmlands. Here, one may even catch a glimpse of the Palestinian farmers tending to their trees by hand. At the end of the hike, catch the sunset at the organic farm and outdoor restaurant of Hosh Jasmin.
Traditional Palestinian food is not difficult to find in any restaurant. While most restaurants are fairly cheap, one can make his mealtime into an adventure by strolling through the Old City of Bethlehem and handpicking different foods to try. The shopkeepers will delightedly allow samples of their breads and pickled vegetables. The Old City of Bethlehem is also a wonderful chance to see the old architecture and everyday life of the Bethlehem-ites, who work and do much of their shopping in the area.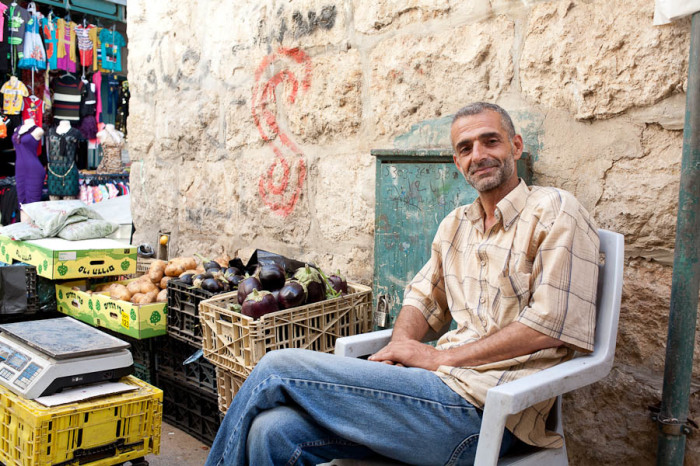 Lastly, for those that are interested in delving even deeper into the current politics of the region, a stop by the Alternative Information Center (AIC) is a must. The AIC hosts talks on the region every Tuesday and Saturday evening, and also has a coffee shop that is open several days a week. The place is very popular with international students and activists and they are always looking for more visitors to share the Palestinian story with.
The Details
Spend an afternoon hiking the gorgeous landscape of Battir. Afterward, stop by the Hosh Jasmin for a true Palestinian farm experience.
Interested in learning more? Stop by the Alternative Information Center (AIC).