Croatia has recently popped onto the radar as a hot travel destination in Europe, and after my husband and I had the opportunity to visit the popular city of Dubrovnik this past July, we could not agree more. Between the amazing landscape, perfect weather, delicious food, fields of lavender, and relaxing by the gorgeous Adriatic Sea, we were spoiled rotten.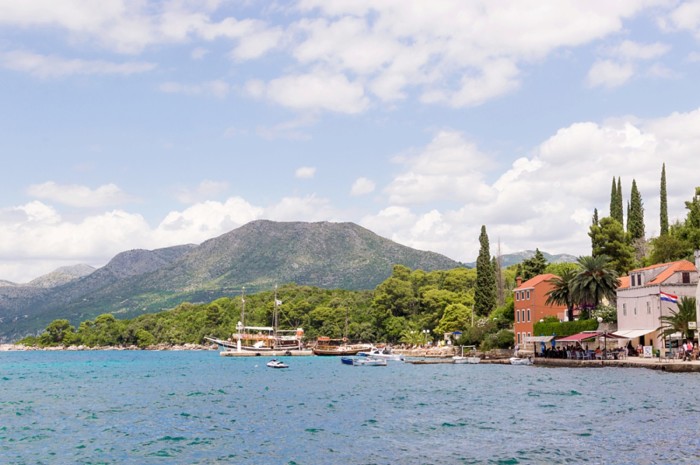 Dubrovnik has no shortage when it comes to amazing places to stay. From five-star properties overlooking the water like the Royal Princess Hotel, to renting a vacation apartment on Airbnb, one really can't go wrong. We stayed in an Airbnb apartment with incredible views that overlooked the Old Port.
While in Dubrovnik one must eat seafood and gelato – those two are an absolute must! Many of the restaurants in the New City offer platters for two with fresh shrimp, mussels, calamari, and whole fish, with sides such as black risotto (which is insanely delicious). Pizza is also very similar to the pizza in Italy in that it's light, fresh and full of flavor. For a great breakfast place, check out Porat by the Old Port, where one can find the best juice and Eggs Benedict. Cafe Buza and D'Vino Wine Bar are two of the best spots for drinking in Dubrovnik. Cafe Buza overlooks the Adriatic Sea and one can sunbathe and jump off the cliffs right into the sea. The bar only serves cold drinks that include beer, wine, and non-alcoholic options. D'vino Wine Bar was another one of our favorites. Full of the best local Croatian wine and the most fun staff, we went twice during our trip. The owner of the bar even brought us some plum grappa that was made in his family's village! Plum grappa is usually made the day a baby is born and then opened on the baby's wedding day. It's a fun tradition, that just so happens to taste amazing!
The highlights of our trip were the wine tour we took with Mario from Dubrovnik Wine Tours and island hopping on the Gospe Od Karmena (and both were unbelievable). The wine tour with Mario started around 9am and included a day of driving through the countryside to a family run oyster farm with freshest oysters around, stopping at several vineyards for tastings (including tasting a rosé that will not be in sold publicly until next year), and dining along the water at the one of the most delicious restaurants in the small town of Ston. The day of island-hopping included seven hours of cruising around on the Adriatic Sea and visiting three islands – Kolocep, Lopud and Šipan. Each island was more beautiful than the last, with crystal clear water and views that were out of this world.
Another must-do while in Dubrovnik is to walk the walls around the New City. Dubrovnik is a medieval town with its stone walls towering over the inner maze of the city. Walking the walls takes about 2-3 hours at a leisurely pace and is definitely an experience not be missed. As if it didn't show, we loved everything about Croatia and our time in Dubrovnik. We highly recommend taking the trip and enjoying everything this city has to offer. Bon Voyage!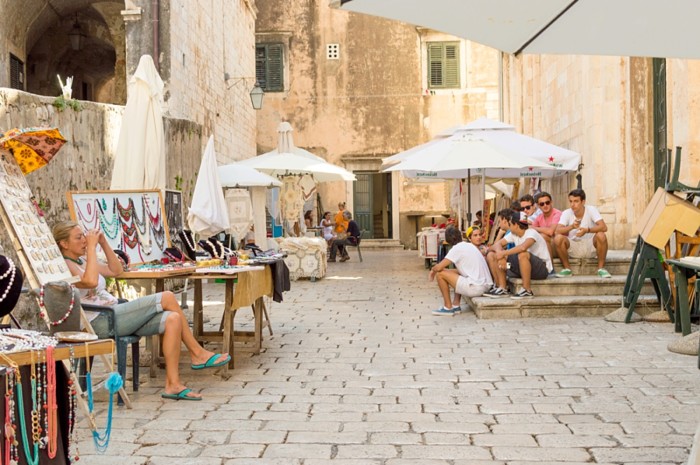 Stay
Royal Princess Hotel
Ulica kardinala Stepinca,
20000, Croatia
+385.20.440.100
The Details
Helpful Hints
The weather forecast may call for rain, but do not fear! Showers are light and last for just a few minutes before the sky returns to gorgeous sunshine.
Olive oil is becoming very popular in Croatia as locals have started implementing grape harvesting techniques for their olives. Olives are picked and immediately pressed, making the oil extremely light and simply divine. Definitely sample some at one of the many olive oil shops in town.
Lavender is everywhere in Croatia and the scent can be picked up just about anywhere one ventures. We couldn't ask for a better smell than that!