I love wine and I've been a big fan of the Rhone Valley wines since my Aunt introduced me to a Crozes Hermitage. I've wanted to visit the beautiful hills that produced this wine for a few years now and I'm so happy that we did. Wine tasting in France is much different from in Napa or Sonoma; it's nowhere near as commercialized as it is here. The vineyards and their productions are fairly small, and the wine growers will be the ones to show you around and pour their wines. Whereas Napa feels like Disneyland, this feels like real life. I knew that we needed to have a guide as it would just make everything so much easier. I found Paul of Rhone Wine Tours through a Google search and he was absolutely amazing!
Paul set up appointments at three of his favorite vineyards: Domaine de Gouye, St Jean de Muzols in St. Joseph, Domaine Betton, La Roche de Glun in Crozes Hermitage and Domaine Alain Verset in Cornas. At our first stop in St. Joseph, everything was done traditionally (vines were staked to posts with straw and fields ploughed by a horse named Ramses). The winemakers Philippe & Sylvie gave us a two-hour tour of their farm, showed us how they plowed the fields by horse and then shared their incredible wines with us. It was nothing short of amazing. Our second stop was a much larger vineyard in Crozes Hermitage, and Christelle, the winemaker at Domaine Betton was so much fun! A larger operation, it was more modern. We were just a few miles away, but it was amazing to see the differences between two areas. We ended up at Domaine Alain Verset, a super small vineyard in Cornas. This was one of the most interesting stops because we were able to taste the exact same wines over the course of six vintages. Each one was so different, from a 2008 that was absolutely incredible, to a 2009 that will need to age in the bottle for another five years, to a 2010 that is pretty fantastic to drink right now.
I'm not sure how one could do a trip like this on her own because it's really all about the relationships that Paul has built over the years of working in this area. Paul is British, but speaks French fluently, so he was able to tell us about each vineyard before we arrived and then translate for us while we were there. He picked us up, drove us around, selected a fantastic restaurant for lunch and then dropped us back at the train station. Each vineyard was so different and we learned so much about wine in general and specifically about this region. It was a full day and, hands down, one of the best experiences we had in all of Europe.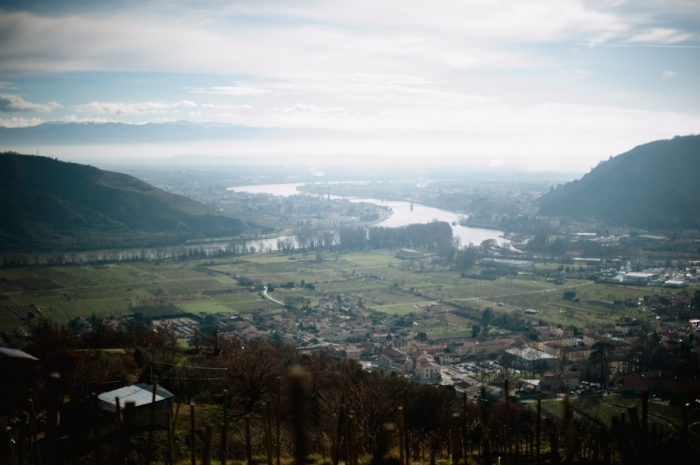 The Details
Rhone Wine Tours
[email protected]
+33 (0)6 05 80 29 46
Jordana Hazel is a wedding & lifestyle photographer based in Los Angeles. She lives for food, traveling the globe and documenting the everyday. You can follow along on her adventures at Cocktails For Breakfast and Hazelnut Photography.