We began our Swiss adventure in Lucerne, an old, traditional town in the north, towards Germany. We loved our ironically ultra-modern accommodations at Hotel LeStelle, just near the square in Old Town Lucerne. Highlights of our time in the city included walks along the water, the "best sandwich in Switzerland" from Twiny Station, sunrises and sunset on the water, and of course people watching and photo taking. To keep things simple we carried a few old Nikon FE's on this trip as opposed to our professional medium format film cameras.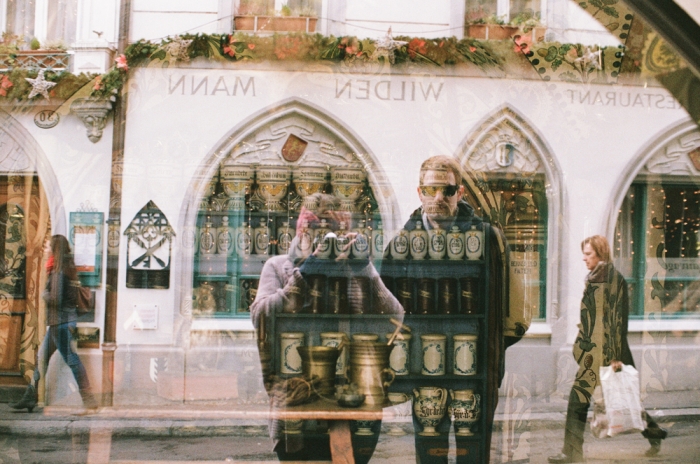 After a few days in Lucerne, it was time to move on. We enjoyed our continental breakfast of cappuccinos, cold cuts, bread and some very pungent cheese slices, and asked the hotel valet to bring our car around. Being friendly, he asked us where we were headed. When we told him Thun, he looked puzzled, turned up his nose, and in his best grouchy Swiss-German English replied, "Why? Thun is famous for nothing." He told us the city castle wasn't very big and that Thun was the town where the army was based. We decided to go anyway, but we opted to take our time driving. If something looked interesting along the way we would stray from our course to check it out. We stumbled upon a quaint mountain village called Iseltwald and saw plenty of mountain vistas. I loved the nostalgia of the old architecture.
Upon arrival in Thun, we found that the hotel valet had been correct. The small castle was closed for construction, and the most trustworthy restaurant we spotted (as we have a tendency to wait until we're absolutely starving to think about where to go for a meal) was in fact a McDonalds. We paid a small fortune for two Big Macs and fries and sat near a second-story window to watch the people of Thun passing on the street below. We didn't really mind that the town didn't have any attractions to speak of or that we didn't get to see the one thing we had wanted to see (Thun Castle). Just being in the midst of a different culture was interesting enough: listening to the language, taking in the foreign scents, walking in the alleys and photographing sights and textures that we don't see every day at home in Atlanta.
As we were driving out of Thun that afternoon to our next destination near Interlaken, we saw the most gorgeous sunset over the mountain lakes, which made the drive well worth it. Our final stop in Switzerland was Zurich, so we spent the night in a questionable hotel in the mountains between Thun and Interlaken and woke up early to make our way back to the city. The sunrise as we drove through the Alps was utterly breathtaking.
It turned out that Zurich was quite difficult to navigate. This part of our trip seemed a bit like there might just be a hidden camera somewhere as part of a reality show about testing marriages! The streets don't run parallel and perpendicular like we're used to, and by the time I would proudly, confidently, phonetically pronounce the name of the next street for Chris to turn onto, he would have already passed it. The next thing we knew, we would be on a one-way underpass toward the freeway. After minimal yelling, we finally found our destination. At that point, we didn't want to ever get back into the rental car. We took the opportunity to walk around the neighborhood where we were staying. What more does one really need besides a coffee shop, a supermarket, and a book shop? As a former kindergarten teacher, turned wedding photographer and wannabe world traveler, I collect children's books everywhere I go. We enjoyed walking the neighborhood, window shopping, sipping cappuccinos and trying not to look too touristy.
Stay
Hotel Le Stelle
Hirschenplatz 3
CH-6004 Luzern, Switzerland
+41 41 412 22 20
Hotel Baeren
Oberdorfstrasse 1,
3812 Wilderswil, Switzerland
+41 33 827 02 02
Guesthouse Gertrudestrasse
Gertrudestrasse 12, 3 Wiedikon
8003 Zurich, Switzerland
Helpful Hints
When we travel, we like to ask for recommendations from locals and do our own exploring, as opposed to booking a tour. However, I do think that if I return to Switzerland I will try traveling via train. I've heard that is the best way to see the country, and while driving through the alps was gorgeous, driving (especially navigating and parking) throughout Zurich proved to be quite a challenge.
While in Lucerne, stop by Twiny Station for what it referred to as "the best sandwich in Switzerland". And if you go, know that only Swiss Francs are accepted and that you may need either a little working knowledge of Swiss-German or a translator!
Buffy Dekmar is an Atlanta-based international photographer who specializes in film photography for wedding and family portraiture. She is also the co-founder of Retreat Gatherings, a community of fine art wedding professionals. Almost all photos in this set of images were taken on non-professional film cameras with the purpose of simplifying and being present.