When a trip to Budapest was canceled at the last minute, we quickly changed plans and opted for a few days of wine tasting in Austria. We fell in love with Vienna the night we arrived and immediately wished we had planned for more than a few days in this beautiful country.
We spent the first day exploring Vienna's downtown, walking through the stunning MuseumsQuartier, sipping cappuccinos on sidewalk cafes, and tasting new wines in the Naschmarket. I think I could live off of cafe au-laits, baguettes, and wine. That evening we visited Labstelle for a delicious gastronomic dinner.
The next morning we were up bright and early for a drive to Wieninger Vineyard (or Weingut Wienenger) to tour the vineyard and try the wines. The owner, Fritz, was incredibly accommodating and gave us a tour through the areas where wine is made and stored. We then drove on to the Wachau Valley where the most delicious riesling in the world comes from. If you haven't tried Austrian riesling, you must add it to your list of wines to try immediately. The Wachau Valley could not have been more handsome in autumn. Driving through the mountains, we saw every color of leaf and tree – it was absolute perfection.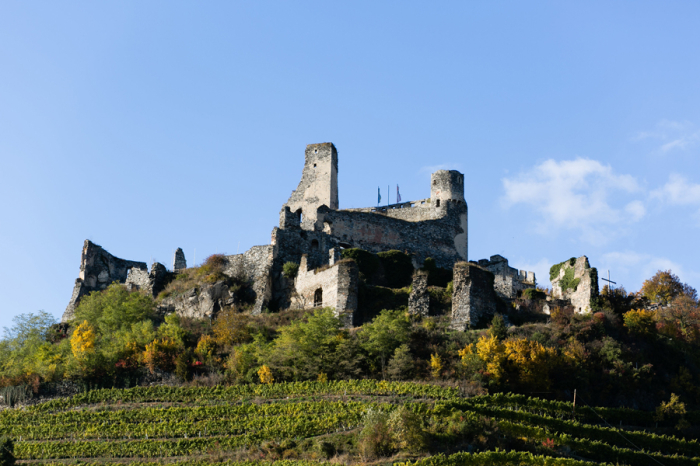 We tasted a few wines at FX Pichler, but I wouldn't recommend visiting unless one plans to buy multiple bottles. Unlike Wieninger, FX Pichler didn't have an organized tasting and the vineyard wasn't really set up for one. That afternoon we lunched at Loibenerhoff, which I would highly recommend. Here one can order a glass of just about any wine in stock, something basically unheard of elsewhere. Here in the U.S. these wines are hard to find in the first place, and definitely only available by the bottle when one can find them at all.
Several of the wineries have guest houses, which unfortunately we didn't know about prior to visiting. On our next trip we will definitely stay longer in the Wachau Valley, and find a cozy guest house for accommodations. In short, we cannot wait to return to Austria!
The Details
Spending a few days in Vienna? Swing by the MuseumsQuartier for one of the largest art and culture complexes in the world.
If wine tasting is on your agenda, we suggest making trips to both Wieninger Vineyard and FX Pichler (so long as you'll be purchasing multiple bottles of wine). One can't go wrong with the Wachau Valley area!
If time allows, be sure to make time for lunch and great wine at Loibenerhoff.
Emilia Jane is an award winning editorial wedding photographer and blogger based in Chicago and New York City who loves to travel and appreciates well crafted cocktails.