New Orleans has always had a special place in my heart. With its culture, food, music, and crazy cast of characters, it's no surprise New Orleans has been nicknamed the most European city in America. When my then-fiance (now husband) and I were discussing where to spend our newlywed years, this magical place topped the list. Three months after we got married, in August 2012, we packed up our belongings and settled down in the Crescent City. Now it's very difficult to think about leaving this incredible, colorful, and resilient place!
Read on for our local's guide to New Orleans!
Jackson Square
Perhaps the most well-known attraction in New Orleans, Jackson Square is nestled in the middle of the French Quarter and acts as as hub for horse-drawn carriages, street peddlers, and tourists alike! Although only the size of a city block, the park is packed with things to do and see – eat some beignets! Admire the Pontalba apartments (oldest apartments in America)! Take a moment of silence in the St. Louis Cathedral! Linger in the Cabildo (now a state museum)!
Jackson Square, 700 Decatur St.
Faulkner House Books
An unassuming doorway tucked between grand buildings in Jackson Square, the former rooming house where William Faulkner wrote Soldiers' Pay has been a delightful little bookstore for fifteen years. Faulkner rented two rooms (exactly where the shop houses their incredible collection of rare books today) in 1925, a complete unknown writing his way to success. To pay his rent, he wrote sketches about New Orleans. Now, the bookstore stocks classics, popular fiction, a fantastic collection of books on New Orleans and Louisiana, and many rare books and first editions (most, of course, by Faulkner himself).
Faulkner House Books, 624 Pirate's Alley
Cafe du Monde
Beign-YAY! It's hard to say no to these delicious fried donuts whether a tourist or a local (believe me, I go way too often!). While extremely crowded on the weekends (for good reason), Cafe du Monde is a must-see in the city of New Orleans. Order a cup of chicory coffee with your beignets or, if the weather is warm, a frozen cafe au lait. Cafe du Monde has been in the French Market since 1862 and is open 24 hours a day, 7 days a week (except Christmas).
Cafe du Monde, 800 Decatur St.
New Orleans Streetcars
By far my favorite way to get around the city, the New Orleans streetcars give you a fantastic view of the city without the stress of driving through the traffic! It is extremely cheap (one-way for $1.25, or you can get a 24-hour pass for $3) and there are routes all over the city. Hop on the St. Charles car for a breathtaking view of all the grand mansions in the Garden District, or get on at the New Orleans Museum of Art to get a cup of coffee on Carrollton!
New Orleans Streetcar for routes & times
Hansen's Sno-Bliz
Ernest + Mary Hansen began Hansen's Sno-Bliz in 1939—Ernest invented the first ice shaving machine (no biggie!) and Mary concocted the delicious syrups that give it flavor. Today the business is still in the family (run by the Hansen's granddaughter, Ashley) and is the perfect mid-afternoon snack in this hot city.
Hansen's Sno-Bliz, 4801 Tchoupitoulas St.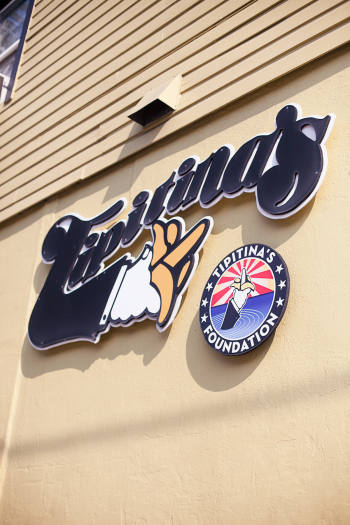 Tipitina's
If you're looking for a fantastic place to see some live music, look no further than Tipitina's. A New Orleans classic (my mom went here in the 1980s!), Tipitina's showcases both locals and touring bands on a regular basis. Check out their calendar and stop in for a visit!
Tiptina's, 501 Napoleon Ave.
Algiers Ferry
Algiers is called New Orleans' best-kept secret, and I wholeheartedly agree! Settled on the West Bank directly across from the French Quarter, the Algiers Ferry runs from Canal Street in the Quarter to Algiers Point (and back again) every half hour during the day. For a minimal fee, you can cross the Mississippi and explore the second-oldest neighborhood in the city (the French Quarter is number one). Algiers was completely untouched by Katrina and is full of beautiful residential homes and quirky restaurants.
Algiers Ferry, Canal St.
National WWII Museum
There are some very neat little museums in New Orleans, but I limited myself to one and the National WWII Museum was a no-brainer. This year TripAdvisor named it #14 on their list of best museums in the world! Rising tall in downtown New Orleans, the museum recently opened its Freedom Pavilion which is personally my favorite part of the museum. Go, and enjoy!
National WWII Museum, 945 Magazine St.
Audubon Park
Audubon Park is full of treasures for both the athletic and the not-as-athletic (myself included). A beautiful jogging path, tennis courts, and golf course are located in the incredible uptown park. While there, "The Fly" is a favorite spot to watch the sunset. If you have kids, take them to the Audubon Zoo!
Audubon Park, 6500 Magazine St.
Milton H. Latter Memorial Library
Once a private mansion now converted for public use, the Milton H. Latter Memorial Library is one of my favorite homes on St. Charles and the only one I can enter freely! Elegant reading rooms and beautiful architecture make this one of my favorite spots in the city!
Milton H. Latter Memorial Library, 5120 St. Charles Ave.
Scriptura
I'm a sucker for average school supplies, so you can only imagine how excited I become in Scriptura! Absolutely beautiful stationery (many New Orleans themed!), notepads, journals, and other fun office-related items. Located on the bustling Magazine St, I can never resist stopping in or at least lingering over their beautiful window displays!
Scriptura, 5423 Magazine St.
Dat Dog
You haven't had a real hot dog until you've eaten at Dat Dog. With homemade buns, juice dogs, and an array of absolutely delicious toppings, Dat Dog elevates a household staple to a meal worthy of fame in a city that adores food. Dat Dog pairs their festive and colorful food with a festive and colorful atmosphere, sporting fun music, a large bar, and outdoor seating.
Dat Dog, 5030 Feret St./3336 Magazine St.
Hattie Sparks
A unique boutique curated by the owner, Hattie Moll, this store is full of beautiful clothes, accessories, and home goods. Pulling from many local designers, Hattie Sparks is a collection of Louisiana spirit. Whether you need a fun party dress to go out on the town or a souvenir of your trip, Hattie Sparks is a wonderful shop to explore.
Hattie Sparks, 714 Adams St.
Storyville
I'm definitely a t-shirt kind of gal, so Storyville is right up my alley! I own several of their shirts and since they make new ones every week (!) there is always another one I'm coveting. Storyville is the perfect place to grab a t-shirt to remember your trip by. Good luck picking just one!
Storyville Apparel, 3029 Magazine St.
Fleurty Girl
Fleurty Girl is a local shop that carries both New Orleans-themed apparel and home goods! I can always find something completely unique and completely New Orleans there (such as a red beans and rice ring or a water meter necklace).
Fleurty Girl, 3117 Magazine St./632 St. Peter St.
Creole Creamery
I'm a sucker for ice cream. And when it's so hot in New Orleans (pretty much all the time), it is usually my treat of choice. Creole Creamery is the perfect refresher for any weary traveler! Their flavors rotate (there are always dozens to choose from!), but my absolute favorites are the unique Creole Cream Cheese and delicious Lavender Honey. Yum!
Creole Creamery, 4924 Prytania St./6260 Vicksburg St.
Oak
Started as an alternative to the city's many smokey bars, Oak is an elegant place to have a glass of wine with your girlfriends. They always have something going on, whether it's live music or half-price drinks. No matter what is happening there when you're in town, stop by Oak for a relaxed evening!
Oak, 8118 Oak Street
Jacques-Imo's
Jacques-Imo's is THE place for "real N'awlins food." This restaurant is known for creative and innovative takes on New Orleans classics, including the surprisingly delicious shrimp and alligator sausage cheesecake!
Jacques-Imo's, 8324 Oak St.
Juan's Flying Burrito
A local favorite, Juan's is a fantastic place to spend a long evening with friends. Labeled as a "creole taqueria", you can expect delicious fish tacos as well as yummy shrimp quesadillas.
Juan's Flying Burrito, 2018 Magazine St./4724 S Carrollton Ave.
Elizabeth's
Located in the funky neighborhood of Bywater, Elizabeth's is a neighborhood brunch favorite. I highly recommend the Eggs Elizabeth—and their praline bacon is out of this world!
Elizabeth's, 601 Gallier St.
The Bean Gallery
A funky coffee shop in the heart of mid-city, The Bean Gallery is a fantastic place to begin your morning with their signature frozen coffee, have a light lunch while reading a book from their collection, or spend your evening studying with college students.
The Bean Gallery, 637 N Carrollton Ave.
NOMA + City Park
The New Orleans Museum of Art is a gorgeous landmark in the middle of City Park. Their collection (over 40,000 works) is varied and excellent, with strengths in French and American art, photography, and Japanese art. The adjoining Besthoff Sculpture Garden is fantastically landscaped, home to over sixty sculptures, and free every day. City Park is also a beautiful attraction complete with botanical gardens, walking paths, and a brand new mini-golf course!
NOMA, One Collins C. Diboll Circle
Lake Pontchartrain
There's just something about water, and my city is surrounded by it! Lake Pontchartrain is one of my favorite places to go, stick my feet in the water, and have some good time to myself. Grab some poboys from Zimmer's and picnic by the water!
Lake Pontchartrain, Lakeshore Dr.
Cemeteries
New Orleans cemeteries are full of unique stories from the past. Aesthetically, the cemeteries are striking with the elaborate above-ground mausoleums. Because they look more like little neighborhoods than graves, they are known around here as "cities of the dead".
St. Louis Cemetery #1, 3421 Esplanade Ave.
Zimmer's
Zimmer's was the first shrimp poboy we had when we moved to New Orleans (literally, moving day) and by golly, it will be the last! A true neighborhood seafood joint, you won't find any chairs or tables here (we take our food a few blocks further to the lake for a delicious picnic) but you will find an appetizing spread of both fresh and cooked seafood. Be sure to get your poboy fully dressed (ketchup AND hot sauce)!
Zimmer's, 4915 St. Anthony Ave.
Community Coffee House
Community Coffee began in Louisiana in 1919, named by the founder Cap Saurage for the community of friends and family he loved. Today, it's still always a place where you can hang out with friends and always (always!) see someone you know. I've spent many a weekend afternoon at my favorite CC's (the Esplanade location in the beautiful Bayou St. John neighborhood—right across from the incredible home pictured!) reading, drinking something delicious, and running into friends.
Community Coffee, 2800 Esplanade Ave./1917 Magazine St.
Finn McCool's Irish Pub
Locals voted Finn's the best neighborhood bar in New Orleans, and for good reason! Finn's has an incredible atmosphere, full bar, and amazing menu (I dreamed about the boudin egg rolls for weeks after I tried them, and don't get me started on the crawfish mac and cheese!). It's the perfect place to meet friends for dinner or watch the game solo!
Finn McCool's, 3701 Banks St.
Sarah Becker Lillard, a lifestyle and wedding photographer based in New Orleans, took to her neighborhood's streets at sunset to show us just a slice of this magical city. Starting at Lake Ponchartrain, making a pit stop in the French Quarter, and ending the adventure near City Park, Sarah's creative take on the city will have you packing your bags in no time.