Hello from Salzburg! If you follow me on Twitter or Instagram, you may know that I'm enjoying a little trip to Europe this week. We began our 10-day hop in Munich, where we took a day trip to Neuschwanstein Castle! You may know Neuschwanstein, as it was the inspiration for Disney's Sleeping Beauty Castle.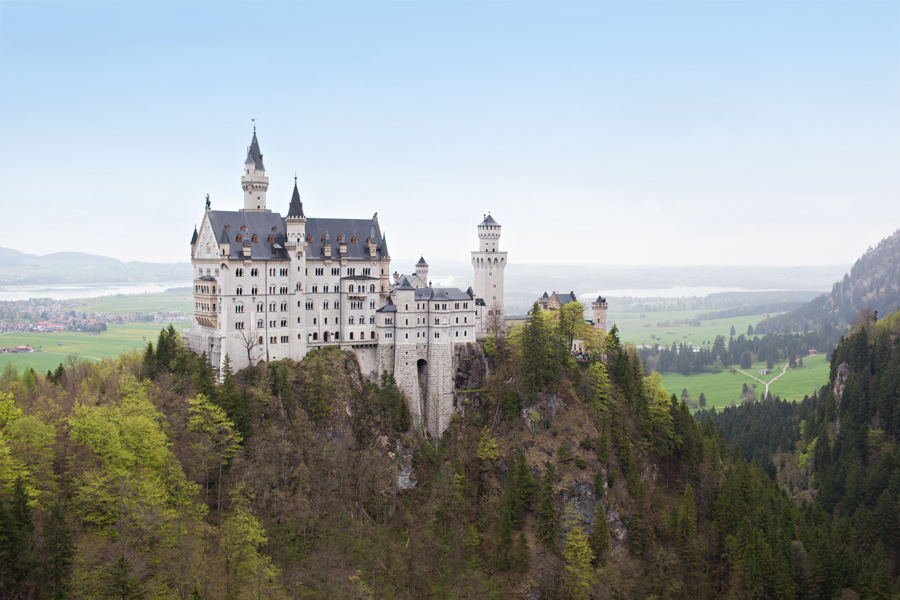 Many visit Neuschwanstein Castle on a tour, which is absolutely not necessary—save your money! Here's all of the info you will need to visit Neuschwanstein on your own (and on the cheap).
The Day Before Two Days Before
First thing's first, you should reserve your Neuschwanstein tickets. If you are following my timeline, reserve the 1:55 2:25 PM tour. You must do this prior to 5pm on the day before 3pm two days before you want to visit. Your card is not charged when you reserve, and you may cancel with 2 hours notice before your tour time.
UPDATE 4/10/2015 – The Neuschwanstein website now requires you book two days ahead, before 3:00 PM local time.
Getting There
On the morning of your visit, you will take the 9:53 AM train to Füssen from the Munich Hbf. You will want to purchase a Bayern ticket from the U-Bahn or S-Bahn station closest to you, as your U-Bahn ride to the Hauptbahnhof is covered by the ticket. The Bayern ticket can be used in a single day from 9am until 3am, and is valid for your train and bus tickets to Hohenschwangau, the tiny little village where you will find the ticket center for Neuschwanstein. A Bayern ticket for 2 adults was €26—a significant value over single train tickets.
When you arrive at the Füssen train station, simply follow everyone else to the buses right next door and take bus 78 to the Castles. The bus drops you off just downhill from the ticket center, where you will walk through the reserved lane to pick up your tour tickets. You must pick up your tickets before 12:55, but this won't be a problem, as you will be there at around 12:20!
From the ticket center, walk a bit uphill to catch the bus. You could choose to walk, but the bus is worth the €2.60 return journey ticket price. It's a steep climb, and there are sadly not many views along the way. The bus will drop you at Marienbrücke, the beautiful cantilever bridge where you can see the castle in the distance.
After several minutes admiring the castle from Marienbrücke, make your way on the marked path towards the castle entrance. It's a 15 minute uphill walk. Along the way you are treated to a beautiful panoramic view of Hohenschwangau.
As you should have 15-20 minutes left before your tour entry, wander down from the entrance to the small viewing platform where you can see just a bit of the castle's front. Then head up to the entrance for your tour. The castle was barely lived in, so the interior is pristine. There is even a (strangely Disney-like) grotto!
Back to Munich
After the 30 minute tour, head back to Marienbrücke, where you will pick up your return bus down to Hohenschwangau. Don't dally as you have a train to catch! From there, walk back downhill past the ticket center to pick up the bus back to Füssen. The bus is scheduled to leave at 3:40 PM, but we were able to hop on at 3:20. There are two buses scheduled, at 3:40 PM and 3:50 PM. Both will get you to Fussen train station in time to make the 4:06, but it's a tight connection. Whichever bus you take, you will get on the 4:06 PM train back to Munich and arrive at 6:17 PM—perfect timing for dinner!
Important Note
The pick-up time has changed to 90 minutes before the tour since the time of writing this article; therefore, the return train time will be TIGHT and it's untested. However, we had 20 minutes' cushion so you *should* be absolutely fine making the connections above. If perchance you miss the 4:06 train, you can have an early dinner in Fussen and take the 6:06 back to Munich.
The Details
Total cost (for 2): €58.8
Total time: 9.5 hours