Like most in Colorado, Kimothy and I are not Denver natives. But that's all the more reason for us to tour you around our now-hometown! From the daily view of the mountains to quirky shops and more local restaurants that our stomachs can bear, it's no secret that we both love this city. An active community with a love for the outdoors, good food, and an awesome time with friends, you'll always find yourself keeping busy in the Mile High City.
Read on for our local's guide to Denver!
Snooze
Denver is a breakfast town, and we surely don't hide it. Waiting upwards of 2 hours just for that scramble or pancake. And, this retro-inspired breakfast joint is a definite Denver staple, with star menu items like the Red Velvet Pancake.
Snooze, Park Ave and Larimer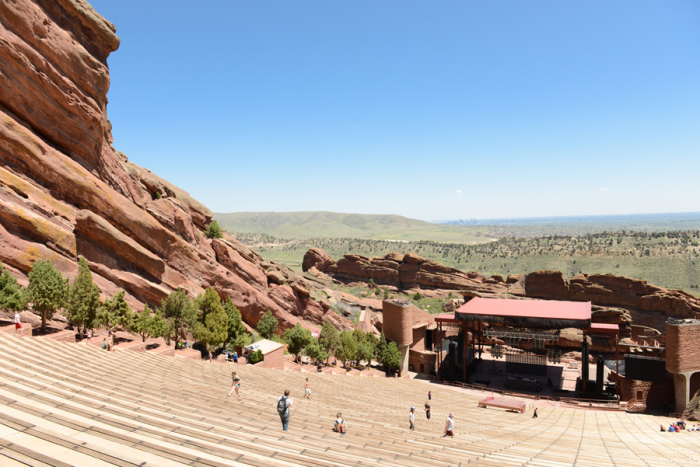 Red Rocks
This natural amphitheater is worth seeing even if you can't catch a concert. With hiking trails and views for days, you'd be crazy to not drive the 25 minutes outside of downtown Denver to get a taste of the Rocky Mountains.
Red Rocks, 18300 West Alameda Parkway
Talulah Jones
There is no shortage of locally owned shops and boutiques around Denver, but Robin Lohre, owner of Talulah Jones has a yearning for the whimsy. Sharing locally made, handcrafted items with Denver, plus unique gift items for your Mom, friend and little one, you're bound to walk out of the shop with something fun.
Talulah Jones, 1122 East 17th Ave
Ace
Owners Brandon and Josh wanted to create the ultimate food, drink, and play space. Home to not only a carefully crafted drink menu (and Denver's Best Bartender as voted by 5280 Magazine), but Ace serves up an Asian-inspired menu and all the ping pong you could ever want to play. Yes, you heard that correctly—ping pong.
Ace, 501 East 17th Ave
B Cycles
This city loves bicycles. With bike lanes all over, mountain bikers galore, and a weekly summer evening city-wide bike ride, it should be no secret that we were the winner of REI's 2013 Cycling Town Showdown. And, our bike sharing program – B Cycles – makes it easier than ever to get around town on a bike, whether you're a proud bike owner or not.
B Cycles, stations citywide
Coors Field
Home to the Colorado Rockies, this stadium just celebrated its 18th birthday. Touted as one of MLBs most offensive ballparks, although it might have something to do with the fact that baseballs fly about 9% faster a mile above sea level — a fact Denver proudly shares. And, it should be of no surprise the field received its namesake from the very brewery that got its start using mountain water to brew Coors. Again, we take pride in our adult beverages, and in our professional sports teams (seven, to be exact).
Coors Field, 2001 Blake St.
Photo: Entouriste
Linger
Experience small plates of "street food" as the owners call it. It's their chance to share with you a way to connect with the food of the world. And, your taste buds will thank them for it. Just be sure to make a reservation and ask to sit on the roof top patio.
Linger, 2030 W. 30th Ave
Little Man Ice Cream
It's hard to miss this Denver landmark while cruising around the Lower Highlands neighborhood. Built to look like a vintage milk jug, you'll often find yourself waiting in line around the block just for a bite of their Salted Oreo Ice Cream. That bite not only makes the wait worth it, but the fact that they donate one scoop of rice for every scoop of ice cream to a community in need around the world should be all the convincing you'll need.
Little Man Ice Cream, 2620 16th St.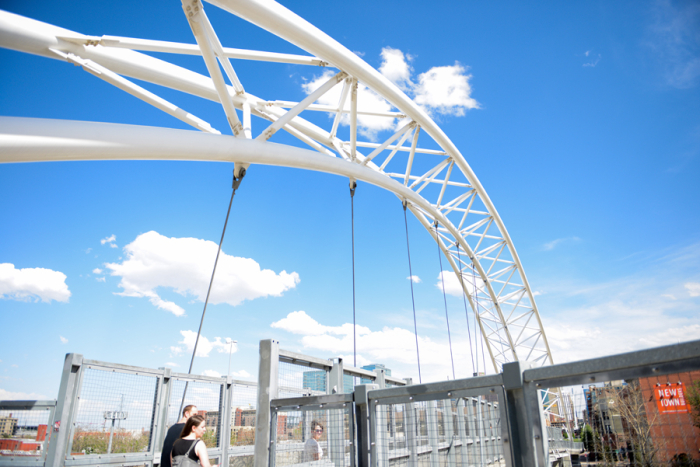 Denver Millennium Bridge
It's hard to miss this downtown landmark bridge—it happens to be the world's first cable-stayed bridge that uses post structural construction. Often captured in the background of many-a-tourist photos, it connects the popular 16th Street Mall to the Commons Park area of Denver. Even if you don't have a desire to trek all over town by foot, this bridge is worth a visit merely for its vantage point in the heart of LoDo.
Denver Beer Co.
There is no shortage of beer in this city. Turn just about every corner downtown and you're sure to find another brewery, and at the very least, you'll smell the hops and barley brewing. This Denver staple can be found just blocks from the Platte River in the Commons Park neighborhood. You won't be disappointed by the atmosphere or their brews — from the Fresh Hop IPA to the Graham Cracker Porter, I'm sure you'll leave with a growler in-tow.
Denver Beer Co., 1695 Platte St.
Brit Tucker and Kimothy Pikor are two best friends living in their adopted hometown of Denver.