Over the Fourth of July we spent a weekend in Montreal. We chose Montreal because it was relatively close (just a one hour flight from New York) and it had been on my bucket list for quite some time. It was a fantastic vacation and every bit as beautiful and historic and delicious as I had hoped it would be. We stayed in a gorgeous apartment next to Chinatown, walked around Old Montreal enjoying the stunning historic part of town, and discovered that Notre Dame Basilica was well worth the $5 donation. We saw the Biosphere at Ile Sainte Helene and explored the Jardin Botanique. Yes, there are a lot of language politics around French and English, and most people speak French on a daily basis, but it's also very bilingual. We had no problems getting around using only English.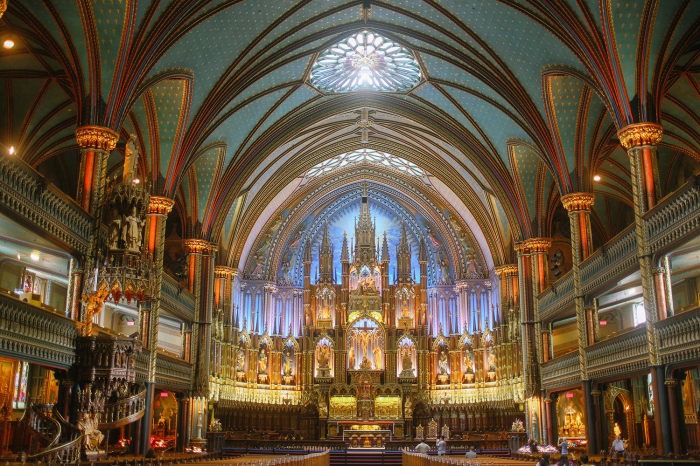 We headed to the market, Jean-Talon, and browsed all the beautiful produce.
On our agenda? Hitting all of Montreal's most famous eateries! We made sure to head to St. Viateur's for a famous Montreal bagel, hand rolled in honey water. These little beauties are more crisp than your typical bagel and not as doughy as a New York bagel. I quite liked them, especially with the homemade strawberry cream cheese.
We hit up the famous Schwartz's Deli, which is like the Katz's of Montreal– tasty smoked meat sandwich with a side of cherry cola! Jesse and I shared one sandwich, because we were still planning to head to dinner later on! Our favorite dinner spot? Le Club Chasse et Pesche (in English, "the hunting and fishing club") was a cozy cave-like spot tucked away on a side street and was easily our best meal in Montreal.
We brunched at Beautys Luncheonette, which is a Montreal institution. Just as well known as the diner is the proprietor, Hymie, or "Beauty." He is now 92 years old but is still there, greeting guests at the door.
Montreal's Botanical Gardens are unlike any other I've seen. The entire space is packed with these beautiful living sculptures crafted into elaborate scenes.
More of my favorite activity—walking around Old Montreal at dusk.
The Details
Try the Montreal bagels at St. Viateur's.
A meal at Beauty's Luncheonette is a must. Just as well-known as the diner is the proprietor, Hymie, or "Beauty." He is now 92 years old but is still there, greeting guests at the door!
Chinatown is very small (a single street) but so cute and packed with good eats. Pick up egg tarts or a few baked goods from Patisserie Harmonie or any of the bakeries on Rue de la Gauchetiere Ouest.
Visit La Banquise for every variety of poutine imaginable.
Dinner at Le Club Chasse et Pesche is worth it!
Helpful Hints
Purchase the 3-day unlimited pass for public transportation from the airport kiosk – it's good for the entire transit system, including bus and metro lines.
We traveled in July and highly recommend it. Summer in Montreal is beautiful!
Anna Wu is a wedding and portrait photographer based in the San Francisco Bay Area. She can often be found photographing and eating her way through various locations around the world. Follow her work on her blog and Facebook.