My husband David and I have had Australia on our bucket list of places to go for a long time now and we finally were able to check it off our list! Christmas day 2012 we left on a 15 day journey through Sydney, Cairns, and Melbourne. Sydney at New Years is one of the most amazing holiday celebrations you will ever see. The sites, people we met, animals, and countryside were truly amazing and totally worth it!
We started in downtown Sydney and it really was amazing to see the Opera House and Sydney Harbor in person. I don't even think pictures really do it justice. The way the Opera House was designed is really interesting. Everything has a purpose—the tiles on the outside are self cleaning, and inside the rooms there are no speakers.  Everything is designed so you can hear clear sound from wherever you are in the room.
Beautiful Bondi Beach:
We left Christmas day and arrived in Sydney on 12/27, since it's 14 hours ahead we totally skipped the 26th. When we were planning our trip we didn't realize how amazing it would be to be there to celebrate the new year. We watched from the Royal Botanic Gardens as up to 6 sets of fireworks—with the most impressive coming off of the Harbor Bridge—all happened at the same time.
Featherdale Wildlife Park is a must do while in Sydney! You can feed friendly kangaroos and wallabies (I loved the koalas, kangaroos, wallabies and even the wombats. The emus are a little crazy!). My favorite were the kangaroos with the little joeys in their pouch.
From Sydney, we took a day trip to the Blue Mountains, which they call blue because the plants emit a color that makes the hills look blue. Gorgeous outlooks and beautiful scenery.
Australia's land mass is almost as big as the USA so unless you have a lot of time to spend you have to fly between cities. We flew from Sydney to Cairns and took the historic Kuranda Scenic Railway which is an engineering feat that connects Carins and Kuranda village. It takes you through the mountains, waterfalls, rainforest, and Barron Gorge. We rode the railway one way and took the skyrail back for a totally different view.
Cairns is the leaving point for great scuba diving spots on the Great Barrier Reef. To get to the really good spots you have to go on a live aboard and stay out on a ship on the reef. We did several dives in two days. I opted out of one night dive as there were sharks! My husband made it out alive, so it must be relatively safe.
On to Melbourne, our third and final city, and the one I was most excited to see! My favorite thing we did was to go to Phillip Island to see the colonies of little penguins come out of the ocean to feed their babies that are nested all along the hillside. Once the sun went down, little groups of them started coming out of the ocean a couple at a time and we literally saw hundreds of them just a few feet away from us. Sadly, no photos were allowed, but I did capture an image of the setting:
The Great Ocean Road was another day trip out of Melbourne and definitely a site not to be missed.  The views were stunning.  Along the way we saw The Twelve Apostles, hiked through an ancient jungle, spotted some koalas in the wild, and saw several little beach towns and lighthouses.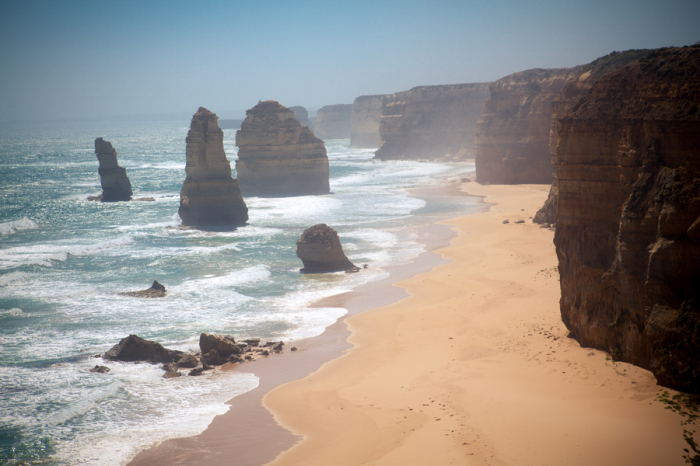 We did actually spend some time in Melbourne and even though Sydney was amazing, Melbourne was actually my favorite. It's very European, and has lots of treasures. From the buildings to the bridges and alleyways, the entire city is art!