Earlier this summer my husband and I, together with our dog, decided to hit the road for our annual camping adventure. We opted to explore the northern coast of Spain, the Basque Country in particular, which I have been curious to visit for a while. We left Lisbon and headed north, following the coast most of the way through Galicia and the Asturias region of northern Spain (also known as Costa Verde or the green coast). After a few very rainy days of driving we arrived in Bilbao, our first stop within the Basque country. We had been camping up until this point but after realizing wet dogs and tents are not the most fragrant of combinations, we decided to try to find a decent accommodation while in the city.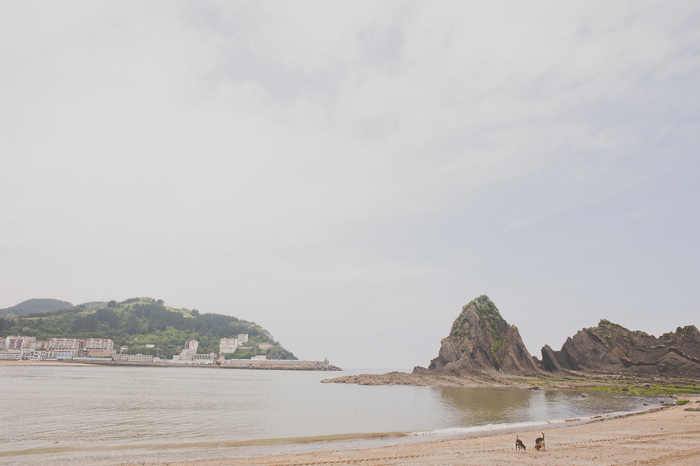 We arrived in Bilbao just before sunset, and after getting lost in the industrial area we wandered the streets of the old town and ate pinxtos (the Basque version of tapas but bigger and better!) and drank Kalimotxo, a surprisingly tasty mix of Coca Cola and red wine.
The next day we visited the town of Guernica, made famous by a Picasso painting depicting the bombing of the town by the German Air Force during the Spanish Civil War. I had studied this painting quite extensively at Art school and have been curious to visit the city ever since. We happened to be there on market day, which ironically was the day of the week chosen for the bombing as it meant the town would be full of people from surrounding areas. I'm a bit of a closet history nerd so I won't bore you with the details, but Guernica has long been considered the heart of Basque culture and is definitely worth a visit if you're exploring the area.
We finished our adventure in San Sebastian, known within the Basque country as Donostia. This city was the reason for our trip and it was great to finally be here to see that it was all worth the effort. This is definitely a place to spend a few days exploring. It´s quite a bit more expensive than the cities we visited on the previous six days, but there is loads to see and amazing food at every turn. The city is, without a doubt, a foodie's paradise and we ate heaps of pintxos (our dinner every evening) and a local sweet treat known as the "pastel Vasco", or Basque pastry – they're delicious!
Kerry Murray is a photographer, traveler, artist and dog walker. She's based in Ericeira, Portugal but is also occasionally found in Cape Town, South Africa where she is one half of Piteira Photography, a husband & wife wedding photography team.