When I initially started to think about everything that makes San Francisco what it is, I suddenly began to feel overwhelmed by the amazingness of this city and the things I've yet to explore. After living here for so long and spending two wonderful years working downtown, my hope is that this collection of my favorite places and spaces helps others enjoy this happy town like a local. There are so many incredible aspects of this city, from fine arts to great food to amazing shopping. Whether it's jogging through the Panhandle on a weekday afternoon, riding bikes across the Golden Gate Bridge, or stopping by Stern Grove for a quintessential summer evening, this big city truly feels like my small-town home.
Read on for our local's guide to San Francisco!
Panhandle Park
I absolutely love running along the Panhandle and seeing how far I can go into Golden Gate Park. Jog in the afternoons after work when everything has a magical orange glow and you'll feel like you're running through a painting.
The Panhandle, between Fell Street and Oak Street
Lucca Delicatessen
Stop by Lucca Delicatessen for a delectable Italian deli experience. Family-owned and operated since 1929, this takeout-only joint is a bit intimidating at first—especially for someone like me with terrible order fright—but the sandwiches are too good to pass up!
Lucca Delicatessen, 2120 Chestnut St.
Tucked between buildings in a narrow alley on Merchant St. in the Financial District, The Hidden Vine still feels like a hidden gem to us. A diverse food menu of tasty flatbreads and cheese plates accompanies the expansive wine selection.
The Hidden Vine, 408 Merchant St.
California Wine Merchant
California Wine Merchant offers a broad selection of wines (including many small production, hard-to-find California wines) with a surprisingly reasonable cheese, olive, and pistachio plate.
California Wine Merchant, 2113 Chestnut St.
Delarosa
Delarosa is one of my favorite Italian places outside of North Beach. The bustling Cow Hollow restaurant features Roman style pizzas, seasonal antipasti, salads, panini, pasta, entrees, desserts and artisanal beer, wine and cocktails. I could eat the burrata bruschetta, hazelnut and honey appetizer every single day!
Delarosa, 2175 Chestnut St.
Ragazza
The pizzas and salads at Ragazza are just incredible. With choices ranging from the "Miss Figgy" (Black Mission Figs, caramelized onions, fontina, speck, and arugula) to the "Triple P" (pork belly, tomato, red onions, Hungarian peppers, and young pecorino), there is a pie to please every palette!
Ragazza, 311 Divisadero St.
A.Cavalli & Co.
A 130-year-old staple in San Francisco's North Beach, A.Cavalli & Co. is the place to go if you're craving a really, truly authentic cannoli.  Owner and chef Santolo "Santo" Esposito moved to the US after working under famed head chefs in London and Milan. Now you can see him, along with wife Yanessa and daughter, Giovanna, chatting with regulars while sipping espresso.
A. Cavalli, 1441 Stockton St.
Caffe Greco
A visit to Caffe Greco for coffee will transport you straight to the outdoor street cafes of Europe. A trip back in time, it's not uncommon to see dapper elderly gentleman reading the newspaper or talking over cappuccinos.
Caffe Greco, 423 Columbus Ave.
The Station
The Station, on the corner of Pacific and Kearny, serves up a killer latte (they proudly serve the cult classic Blue Bottle Coffee). For a unique and refreshing treat try the Nola roast iced coffee with chicory and organic cream.
The Station, 596 Pacific Ave.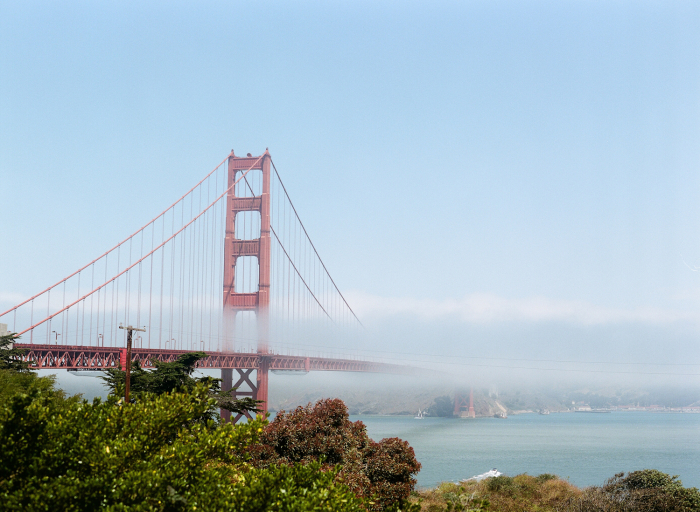 Golden Gate Bridge
Albeit touristy, biking the Golden Gate Bridge is absolutely majestic. I love arriving in Sausalito and realizing how your legs can take you out of the city so quickly!
Golden Gate Bridge, 999 Marine Dr.
Haight Street Market
Haight Street Market is a locally-owned grocery store with a healthy organic selection and surprisingly affordable prices. It's also conveniently located close to Golden Gate Park for picnics. Grab a sandwich from the deli on the delicious Dutch Crunch bread for your afternoon in the park.
Haight Street Market, 1530 Haight St.
Crossroads Trading Co.
Crossroads, though not truly native to San Francisco, is my favorite second-hand store for scoring great deals on unique pieces. With four locations in the city, you're never far from a little bargain shopping!
Crossroads, 1901 Fillmore St./1519 Haight St./630 Irving St./2123 Market St.
Tartine Bakery
The famed Tartine Bakery is a must-visit in the city. Order the banana cream pie (or any pastry for that matter!) and sit outside for a morning of great hipster people watching. While definitely worth it, be prepared to wait out the door and around the block if you visit on a weekend morning.
Tartine Bakery, 600 Guerrero St.
Baker Beach
Baker Beach is hardly a ten-minute drive from downtown, yet somehow always feels so private and secluded. I love walking along the beach and being nearly the only ones there—it's majestic. Bonus: it's dog friendly!
Baker Beach, Golden Gate National Recreation Area
Palace of Fine Arts
Whether you are getting your fill of art and history or strolling alongside the water watching the swans, the Palace of Fine Arts is a popular destination, and one of the few surviving structures from the 1915 Panama-Pacific Exposition.
Palace of Fine Arts, 3601 Lyon St.
Ferry Building
With so many neat little specialty shops, I love walking inside the Ferry Building before stepping outside to visit the farmer's market (Tuesday, Thursday and Saturday).
Ferry Building, 1 Sausalito – San Francisco Ferry Bldg.
Stern Grove
During the summer there are free concerts and performances at Stern Grove. Get there early, pack a picnic and sit on the hill among the trees to watch live art performances with new friends (think SF Ballet and the Opera!).
Stern Grove, 19th Ave. and Sloat Blvd.
Fillmore District
I always love walking Fillmore Street (home of The Fillmore), enjoying the classic San Francisco architecture and stopping in at any of the many interesting shops. It's a great place for people watching in the city!
Fillmore District, between Geary Boulevard on the north and Grove Street on the south
Roam Burgers
For the best burger in town, stop by Roam. Try the free-range turkey burger from Diestel Family Farm and add a side of truffle parmesan russet fries for an irresistible, finger-licking meal.
Roam, 1923 Fillmore St. (between Bush and Pine)
Grant Avenue
One of the oldest streets in San Francisco, Grant Avenue is home to chic stores and tasty cafes. Grant Avenue takes you through the heart of the city, from Market Street in the heart of downtown, through Chinatown, and into North Beach.
Grant Avenue, Market Street to North Beach