Honolulu has a lot to offer – everything from historic sites, to fabulous restaurants, botanical gardens, and of coarse the iconic Waikiki beach. Getting around is simple, public transportation is easy, and it's a tourist friendly, low crime city. With a steady temperature it really is a perfect little slice of paradise.
Read on for our local's guide to Honolulu!
Pearl Harbor
Pearl Harbor is a must see on Oahu and one of the most wonderful things about it is that Japanese tourists frequent it as often as Americans. This historic site contains not just the Arizona Memorial and several battleships that you can tour, but also a wonderful new aviation and flight museum. The trip out there also allows for views the original airplane hangers still riddled with bullet holes.
Pearl Harbor, 45 minutes from Waikiki
Foster Botanical Garden
For a small fee you can gain entrance to the Foster Botanical Garden right in the heart of Honolulu – it's an oasis away from the hustle and bustle of the city. The butterfly garden and orchid house are must-sees.
Foster Botanical Garden, 50 N. Vineyard Blvd.
National Memorial of the Pacific
There's no fee to enter this magnificent memorial nestled in an ancient volcano crater. The drive up affords some of the best views of Honolulu and the entire southern side of the island and the title mosaics depicting battles across the Pacific region are exquisite.
National Memorial of the Pacific, 2177 Puowaina Drive
Blue Tree Café
Honolulu has tons of cute coffee shop stops and Blue Tree Café is one of the best. Free wifi and healthy, organic treats are just a few of the reasons to stop here for a quick break.
Blue Tree Café, 1009 Kapiolani Blvd
Iolani Palace
The state capitol area has several must-see attractions including Iolani Palace which was the official residency of Hawaii's monarchy. Two monarchs, King Kalakaua and Queen Lili'uokalani ruled from here until the overthrow when it was turned into government offices. Once Hawaii became a state it underwent restoration and was turned into a museum.
Iolani Palace, 364 S. King Street
Hawaii State Art Museum
This fabulous museum offers free admission and houses some of the best works of art from both Hawaiian and Pacific region artists. This gorgeous building was built in the 1920s with Spanish style architecture and includes a swimming pool in its courtyard and a Moroccan style fountain on the front lawn.
Hawaii State Art Museum, 250 South Hotel Street
Honolulu Zoo
The Honolulu Zoo is one of the most isolated zoos in the world but despite its small size houses a surprisingly diverse amount of animals. The elephant exhibit is brand new and it's a great place for kids and adults alike.
Honolulu Zoo, 151 Kapahulu Ave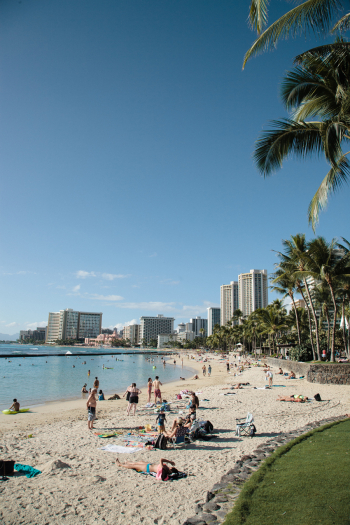 Waikiki Beach
The iconic Waikiki beach is the place to go for surf lessons, catamaran cruises, and other fun in the sun. It is not uncommon to see sea turtles trolling the warm waters and it has great views of Diamond Head.
Leonard's Bakery
Leonard's has been a local hotspot since 1952, serving up the tastiest treats on the island. Not to be confused with donuts, Malasadas are a Portuguese confection made of deep-fried dough that is then dusted with sugar and they're delicious!
Leonard's Bakery, 933 Kapahulu Ave