The Inca Trail hike to Machu Picchu was without a doubt the most difficult and challenging thing either of us has ever done, and we're glad we checked it off our bucket list. We booked Info Cusco as our tour group and did the traditional Inca Trail hike for 4 days and 3 nights. They were not the cheapest option or the most expensive, but overall we loved our experience with them and would highly recommend them. We arrived to Cusco three days before the start of our Inca Trail hike with the plan to acclimate to the elevation and explore the city. Although we flew overnight and barely got any sleep on the plane, we were eager to explore so we dropped off our bags at the Encantada Casa Boutique Spa Hotel and headed into town! Cusco definitely had its charm and beautiful architecture, but it didn't take us long to realize that it was a tourist city. Around every corner there were souvenir shops and street sellers.
If we had to do it again, we definitely would have cut out one of the days. Even though doctors recommend a full week to acclimate, the two days were enough for us. We did visit ChocoMuseo, where we learned all about making chocolate, and the Mercado Central de San Pedro, a local produce and meat market.
Whatever the opposite of outdoorsy and active is, that's what I am! If you're asking whether it was worth all the blood, sweat and tears during the hike (why not just take the train, right?), the views alone were completely worth it. And then there's the added bonus of having a sense of accomplishment when you finally reach Machu Picchu. Those other guys who took the train? Cheaters! The busiest season for this hike is March & April. We happened to go in early August, which is the turn of the season from dry to rainy. We got extremely lucky and had perfect weather the entire hike. They allow 200 travelers on the Inca Trail a day accompanied by 250 porters. You pass by the same people every day (or they pass you, in our case), so you get to know the other hikers while suffering together.
On the first day, we were picked up from Cusco in the early morning before 6 AM, made a quick stop in Ollantaytambo for breakfast, and then started our hike along the Vilcanota River. The first day was approximately 6 hours and was the easiest day.
DAY 1: CUSCO-WAYLLABAMBA:
Distance: 7.45 miles / 12km
Estimated time: 5-6 hours
Maximum altitude: 9,850 feet / 3,000m
It was a struggle for us, but the porters were carrying over double the weight we carried and were sprinting up and down the mountains. These guys were our heroes!
Our lunch spot! Llactapata:
Our first ruins in clear view!
DAY 2: WAYLLABAMBA – WARMIWAÑUSCA – PACAYMAYO:
Distance: 6.83 miles / 11km
Estimated time: 6 – 7hours
Maximum altitude: 13,799 feet / 4,200m
You are on a crazy climb for 3 hours and go along Dead Woman's Pass until you get to the highest point of the entire Inca Trail. Then it's another 3 or so hours descending to the campsite.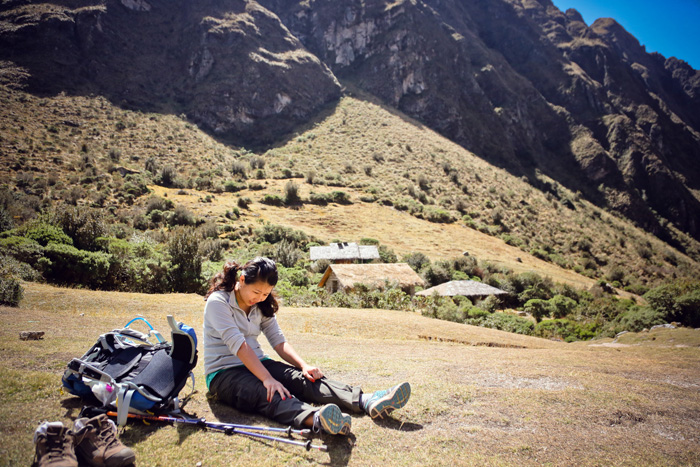 Porters traveling up Dead Woman's Pass. It was rough. Just imagine climbing stairs for three hours straight. It was nice that even from half an hour down, you can hear people cheering others on this portion.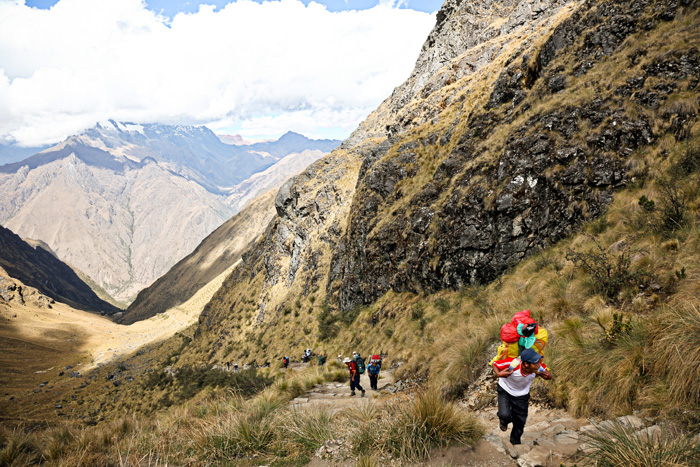 After lots of tears we made it!
DAY 3: PACAYMAYO – Puya Patamarka – WIÑAY HUAYNA:
Distance: 9.93 miles / 16km
Estimated time: 8 hours
Maximum altitude: 12,664 feet / 3,860m
It took about one hour to reach the ruins of Runkurakay. Here's the view looking down at the campsite where we slept.
Then we reached the ruins of Sayacmarca, " Town in a Steep Place".  It was only accessible through a steep and narrow stone staircase, which was scary going up. Most travelers left their packs at the bottom before climbing up.
The tunnel of love, a tunnel formed by a soil slide adapted by the Incas.
Arriving in Phuyupatamarca ("Cloud-level Town") Inca Ruins:
Almost done! Intipata, "Sun Terraces". The last ruins of the 3rd day.
DAY 4: WIÑAY HUAYNA – Machu Picchu:
Distance: 2.48 miles / 4km
Estimated time: 2 hours
Maximum altitude: 8,923 feet / 2,720m
The final section of the trail was from Huinay Huayna to Intipunku. We woke up at 5 AM and waited for the gate to open. The majority of the hike was easy except for a small portion of stairs where you're on hands and knees. We liked calling that portion the monkey stairs. We didn't take many photos on the last day, just because we were in a rush to get done. Once we arrived to the area that was overlooking Machu Picchu, we could take a breather. We were so happy to be finally looking upon our finish line!
After four days of hiking the Inca Trail, we arrived at our destination: Machu Picchu! We had an early morning hike to the sungate, where we got our first glimpse of the ruins. It was a great spot for photos and time lapses while we waited for the sun to come over the horizon. Afterwards we trekked for another hour to enter the actual ruins. Upon arrival, we quickly realized how many people were there! There are approximately 2,000 people visiting everyday. Most of them had come by train or bus. We were grateful that through hiking the Inca Trail, we had an intimate look at many of the other ruins without the crowds.
At Machu Picchu we were able to have a bathroom break, purchase a very expensive beverage, take the tour, and then do some exploring of our own. We thought the hiking portion was done, but we were mistaken. It was another hour and a half of going up and down stairs throughout Machu Picchu. Good thing we were conditioned for the exercise!
The Details
Info Cusco
Classic Inca Trail 4 days, 3 nights
Recommended booking: 4 months in advance
Prices (March 2013 to January 2014): $520 USD
Helpful Hints
What to pack—see Esther and Jacob's full packing list for hiking the Inca Trail along with some helpful tips for the hike.
Visiting Cusco—Esther and Jacob share their favorite restaurants and things to do in Cusco.
Stay
Encantada Casa Boutique Spa Hotel
Tandapata 354 – San Blas Cusco
[email protected]