Being Canadian, the majority of my year is spent in cold weather, with summer being our busiest season. Needless to say, I had been looking forward to our Arizona road trip ever since my family first came up with the idea last December. We are huge nature-lovers and a trip through a climate that none of us had experienced before was the perfect thing for us to see together. One of our favorite destinations on this trip was Sedona. Nothing could have prepared me for the stunning red-rock vista that we saw driving into the city. It is a view I will never forget.
We stayed at The Amara Resort & Spa for three nights while in Sedona. The resort had an incredible view that could be enjoyed from the restaurant or by the infinity pool each day, and was only a minute away from both the shops and many hiking trails.
Our favorite restaurant spot while in Arizona was the Heartline Cafe. I particularly enjoyed that they had many gluten-free options on their menu (a hard thing to find when you're a travelling celiac like myself).
Our wildest adventure while in Sedona was taking a Pink Jeep Tour through the National Park. Our guide was anything but timid as we climbed rock staircases and drove around cliffs. That staircase you see in the photo? We drove down it, in a car. I wouldn't believe it myself if I didn't experience it!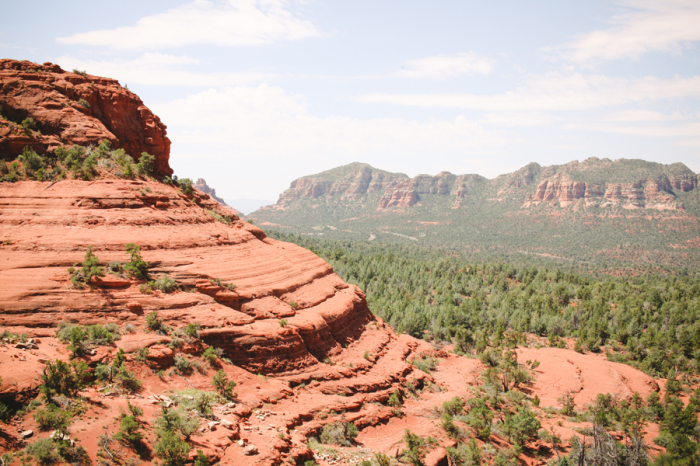 We also spent some time checking out numerous rug, craft and jewelry stores in the Tlaquepaque Village. While lots of the stores are on the more expensive side, the uniquely stunning tile that could be seen all over the village made the trip worth it.
My second favorite destination on our road trip through Arizona was Scottsdale, where we stayed at the lively and colorful Saguaro Hotel. I found it so interesting how different the scenery was just a few hours away from Sedona. No red rocks or many mountains here, but lots of palm trees, cacti and sunshine! I also love carefully curated boutique hotels with lots of personality and The Saguaro definitely satisfied my obsession.
Stay
The Amara Resort & Spa
100 Amara Lane
Sedona, AZ 86336
855-324-1313
The Saguaro
400 N Drinkwater Blvd
Scottsdale, AZ 85251
1-800-738-7477
The Details
Caileigh Kyle is a fine art wedding and lifestyle photographer currently living just outside of Toronto, Ontario. She has a passion for capturing beautiful moments and living a life full of laughter, travel, and great coffee.