Last summer, my husband Dave and I had the opportunity to travel through Switzerland. Italy is my first love, but I must say that Switzerland packed a punch! Lugano was our very first stop on our Switzerland vacation. We pulled into town on the train from Milan and made our way up the hill to the Hotel Montarina. Because it was a vacation season in Switzerland, they were full but they gave us a room at the neighboring Continental Park Hotel. We didn't mind, the rooms were clean, modern and there was even a pool there. We, of course, did not spend much time in the room as we were anxious to see the sights. To me, out of all of our travels through Switzerland, Lugano felt the most like home. During our time there we rode the funicolare (cable car) up to Monte San Salvatore, took a river cruise to Gandria, and mainly just strolled around the lake eating gelato. If you are planning a Swiss honeymoon or vacation I would say you should spend at least one full day enjoying this lakeside village.
After two nights in Lugano, Dave and I set out early for Interlaken at the base of the Swiss Alps. It was a long day of travel as we had to first travel to Lucerne to hop a train to Interlaken, another train to Lauterbrunnen and a finally cable car to Murren. We were completely exhausted but I could not close my eyes for a single moment because the landscapes from the train were nothing short of awe inspiring. We ate fondue, made some new friends and stayed at the Hotel Edelweiss in Murren. Some of these images were taken right on our balcony.
After we rode the cable car and train down from Murren we decided to spend the day in Interlaken. It was a gorgeous day and we had a ton of activities to choose from but it will surprise no one that we chose to do a Lake Cruise. Since it was free with our Swiss Pass it was not a difficult decision. However, I think everyone else in Interlaken had the same idea and the boat ended up being very crowded.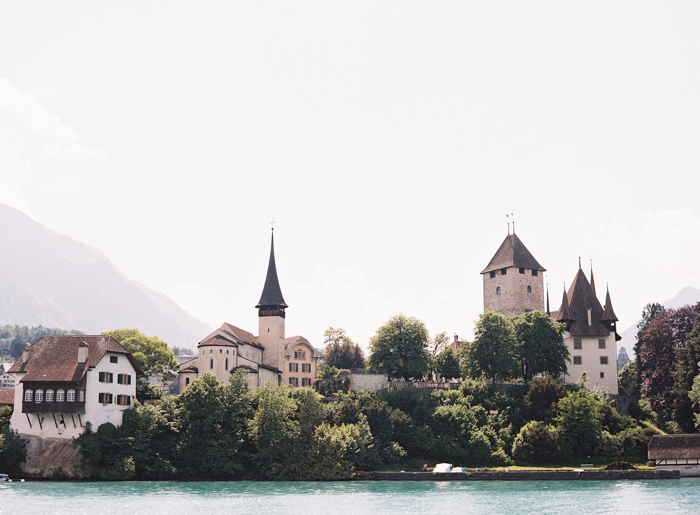 Lucerne and Zurich were the last two legs of our Swiss Adventure. We spent all of our time in both cities just wandering the cobblestone streets and trying to just relax as much as possible. In Lucerne, we stayed above a pub, visited an English speaking church on Sunday morning, and had fondue with our new friends who were also touring Switzerland.
Finally we made it to Zurich where we stayed in the strangest hotel I have ever seen. By this time, we were pretty wiped out and tired of the Swiss dining culture, so we went to the grocery store for some picnic goodies and enjoyed them on our balcony. I'd have to say my favorite part about both cities was their river. It was as crystal clear and blue as any ocean water I have ever seen and the swans certainly put on a show.
Stay
Continental Park Hotel
Lugano, Switzerland
+41 (0)91 9661112
Hotel Edelweiss
Murren, Switzerland
+41 (0)33 8565600
Hotel Pickwick
Lucerne, Switzerland
[email protected]
Leoneck Hotel Zurich
Zurich, Switzerland