Our trip to France and Italy began in Nice at the Cote d'Azur. We enjoyed a stroll down La Promenade des Anglais where we dipped our toes into the clear blue water of the pebbly beach and savored lunch at Le Vieux Nice. We then spent the afternoon popping into the city's little shops and discovering Le Parc de la Colline, Rosetti Plaza and Le Port to be beautiful areas for photos and all easily within walking distance. I also made sure to stop every few hours to enjoy my "cafe" (similar to an espresso) and a sugar and butter crepe!
After thoroughly enjoying Nice, we made the roughly two-hour drive to the quaint towns of Grasse, Cabris and Spéracèdes. We found La Soleillade hotel in Spéracèdes to be both inexpensive and very authentic, while being sparse but tidy. It was perfect for those who like to take the day to explore. We came upon L'Auberge du Vieux Chateau restaurant in Cabris as an accidental find and quickly fell for its rustic outdoor décor. The food was possibly some of the best I've ever had and I would even go so far as to say it rivals the presentation and taste at top restaurants such as Per Se or Blue Hill. Our seven-course meal and wine was affordably priced and delicious. Cabris is a lovely town to walk in, especially around the old church, and the little streets are something from a storybook. We followed up our day of exploring with a late night pizza at an adorable pizza truck that also sold delicious bottles of red wine.
Over the next few days we took short trips to some of the most scenic little towns in the South of France: Menerbes, Lourmarin, Les Baux-de-Provence and Ansouis. We also spent some time in the neighboring town of Nimes, dancing the night away at Le Barberousse and having breakfast at Le Courtois at Place du Marche. Ansouis has a gorgeous 18th century castle that is worth touring and Les Baux-de-Provence is straight out of a fantasy novel. While there I would definitely splurge and have dinner at Restaurant L'ousteau.
Despite being such a famous town, I suggest skipping Cannes. Instead, prepare for a long day trip and drive from Grasse through the amazing Gorges Du Verdon – a national park with amazing twisting roads and scenery. It takes about three hours to drive but it is absolutely worth it. You'll travel through foggy banks and rivers before driving beneath huge stone overhangs and forest. Spend the night in Aix-en-Provence, the epicenter of Provence and rest up for a few more days of adventure.
Portofino is a quieter, less touristy version of Cinque Terre, but I would recommend doing both as they are equally spectacular locations. Staying in Portofino is expensive, but absolutely worth it. Be sure to take a walk up to the castle where you'll see a very unique graveyard with "plots" along the side of the church rather than underground.
From Nice, Italy's Cinque Terre was about a four-hour drive, not including the winding roads in the national park. We visited Manarola and had dinner at Trattoria Dal Billy – which isn't on the main street, but is a half hour climb through the towering homes on the side of the cliff. The best entrée-crab & lobster with fresh homemade pasta–was paired with a glass of white wine as the sun set over the ocean. It was simply blissful!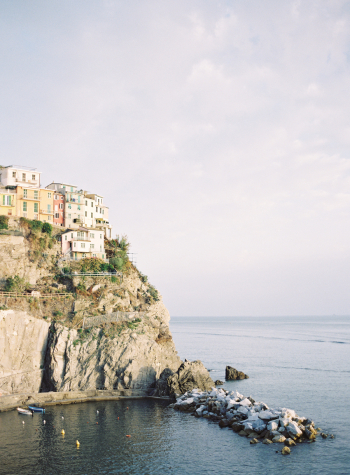 Stay
La Soleillade Hotel in Speracedes
3, rue des Orangers, F-06530 Spéracèdes
+33-4-93605846
Helpful Hints
In Nice, be sure to pick up a quintessential bar of Marseilles olive soap. Its iconic square shape is unique to France and makes a lovely gift for friends back home.
The best wine I had was in Portofino! Order a bottle of Malvira 2011 Renesio Roeroarneis and pair it with fresh Gambas at restaurant o Magazin.
Always avoid the touristy cafes and restaurants in Italy and try to find something out of the way. Pizza is served in square slices so avoid any restaurants that serve round pies!
Jen Huang approaches weddings and lifestyle photography with a romantic, fine art sensibility. Known for her fresh, luminous portraits, Jen crafts thoughtful, simple images that evoke the look of water colors and oil paintings. Her passion for photography is heightened by her continued dedication to medium format film, and her work has appeared in editorial all over the country.