After moving to Seattle just over two years ago from Florida, I felt like I was in a new world of year-around activities. The weather is mild — Florida-like thunderstorms are incredibly rare. You can always throw on a jacket and head to the mountains, the water, a plethora of tourist sites, and, of course, a number of gems in our thriving food scene. Traveler's Tip: Unless you're visiting in the summer, come prepared with a hooded rain jacket. Leave your umbrellas at home, or you'll stick out like a sore thumb!
Read on for our local's guide to Seattle!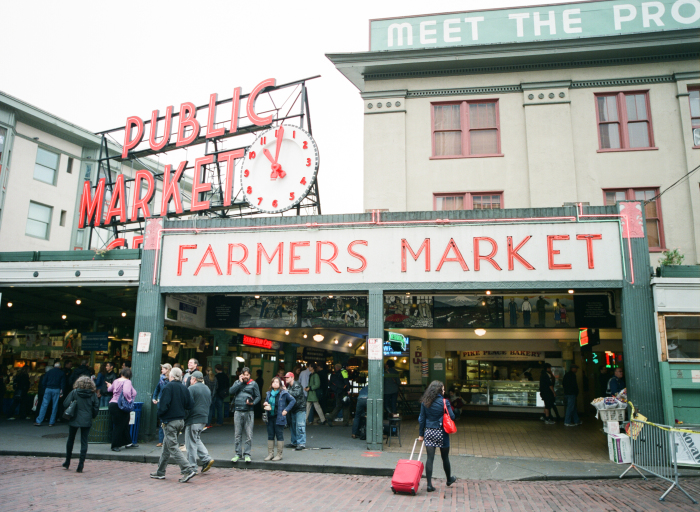 Pike Place Market
This is what everyone pictures when they think of Seattle. Fish throwing, incredibly beautiful and cheap fresh flowers, seasonal fruit samples, the gum wall, and Rachel the pig. Across the street, you'll find the original Starbucks, Sur La Table, Piroshky Piroshky Bakery, Beecher's Handmade Cheese, and Le Panier to name just a few. Don't forget to stroll through Post Alley for Pike Place Chowder (I always get the seafood bisque) and Rachel's Ginger Beer. Be prepared to walk slowly and stand in long lines any time other than the winter. It's worth it.
Tip: Park in the garage across the street from the Aquarium on Alaskan Way. The elevator takes you straight up to a side entrance.
Pike Place Market, 1st Ave and Pike Street
Seattle Public Library
This public library will blow you away. The wild architecture carries throughout, with areas that are solid red and neon green escalators. There are great vantage points when you take the elevator to the top level. You can even do a free self-guided cell phone tour. If you have kids, take them on a tour and end up in the huge children's area on the bottom floor.
Seattle Public Library, 1000 Fourth Ave
Ferry to Bainbridge
Watching downtown Seattle fade in the distance as you make your way to Bainbridge Island is a sight you don't want to miss. The ferry itself is a great experience, especially if you drive a car onto it. If it's cold or rainy, you can grab a booth inside to stay warm and dry. While in Bainbridge, there is a nice shopping strip, and Fay Bainbridge Park at the north end of the island has a great beach and playground. On a clear day, it also has a great view of Mount Rainier.
Ferry to Bainbridge, Pier 52
Serious Pie
Tom Douglas does delicious pizza. Share a starter and choose from a handful of Tom's pizza topping combinations, like penn cove clams, pancetta tesa, lemon thyme. It's a new, very delicious, world.
Serious Pie, 316 Virginia St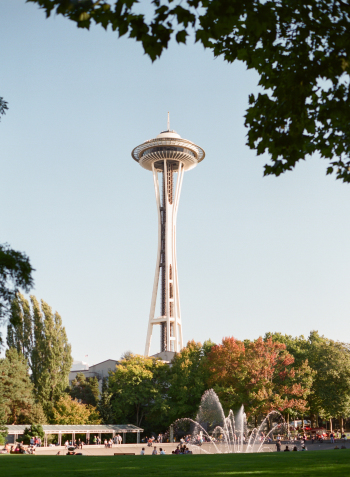 Seattle Center
Head to the top of the Space Needle, catch a festival, eat great local food at a food truck or in the Armory, and watch people get drenched at the International Fountain. It's especially beautiful in the summer. Grab a spot in the grass to eat your lunch and have a calm moment. (This is also the location of the new Chihuly Glass Garden, the Pacific Science Center, The Children's Museum, Experience Music Project, and the Key Arena.)
Tip: We recommend parking at the 5th Ave N Parking Garage by the Bill and Melinda Gates Foundation.
Seattle Center, 5th Ave N and Mercer St
Filson
I think this quote explains it: "…it is the Filson ideal and policy to produce only the best in Outdoor Clothes that it is possible to manufacture." -Clinton C. Filson in his 1926 catalog. If you don't have the cash commitment for their amazing bags or clothing, the store itself is beautifully crafted and worth a visit.
Filson, 1555 4th Ave S
Melrose Market
Melrose Market is a charming space with several shops and restaurants. Shop some well-curated home goods or gifts, buy some fresh flowers, grab a drink, eat a meal, and take some fresh meat or seafood with you. Shops include Marigold and Mint, Glasswing, Sitka & Spruce, bar ferd'nand, Still Liquor, Butter Home, The Calf & Kid, Homegrown, Taylor Shellfish Farms, and Rain Shadow Meats.
Melrose Market, 1501-1535 Melrose Ave
The Elliott Bay Book Company
Located in Capitol Hill is Elliot Bay Book Company, easily the best bookstore in the Pacific Northwest not named Powells. With cedar shelves, a full coffee shop and bakery, and world class author readings, you can easily spend hours in this bookstore. Be sure to check out the front half of the shop, where local picks and perfectly curated finds are abundant. Don't miss the great record store across the street, too.
The Elliott Bay Book Company, 1521 Tenth Ave
Ballard Locks
Though we call them Ballard Locks, they are officially known as the Hiram M. Chittenden Locks. This canal allows boats to pass from the salt water of Puget Sound to the fresh water of Lake Union and Lake Washington. You enter through the beautiful Carl S. English Jr. Botanical Garden with grassy hills perfect for picnics. Watch massive ships, sailboats, and yachts pass through the canal and walk over the canal walls. Finally, at the end of summer, you can see thousands of salmon jumping up the fish ladder on the far end.
Hiram M. Chittenden Locks, 3015 NW 54th St
Bluebird
While there are several great local ice cream shops in Seattle, Bluebird is our favorite because of their waffle cones. They're crisp and airy and delicious. Be sure to get one.
Bluebird, multiple locations: 1205 E Pike St, 7400 Greenwood Ave N, 3515 Fremont Ave N
Bakery Nouveau
The original is in West Seattle, but I love their new location in Capitol Hill. It's bright and crisp. The pastries and espresso are absolutely delicious. You can always find an excuse to stop here. And try to grab a view of the kitchen!
Bakery Nouveau, 4737 California Ave SW or 137 15th Ave E
The Wandering Goose
I insist that you get the Aunt Annie's biscuit sandwich. The fried chicken, bread & butter pickles, house mustard, and Heather's honey are a symphony of flavors. I'm also from the south, and it's hard to find a good southern meal here. This hits the spot.
The Wandering Goose, 403 15th Ave E
Volunteer Park Conservatory
The conservatory is a huge, beautiful greenhouse within Volunteer Park. Always warm and covered, this is a great getaway within the city all year long. No matter when you choose to visit, there will be plenty of blooms to admire. My favorite room is the Cactus House, filled with cacti, succulents, and air plants in a ceiling-tall display. It also hosts many events and a cute train at Christmastime.
Volunteer Park Conservatory, 1400 E Galer St
Portage Bay
Portage Bay draws me in every time we drive through it. Near the University of Washington, the bay is perfect for a summer kayak trip. The south side is coated with lily pads and canopies, while the north has houseboats and fisheries. It's exciting and serene at the same time.
Portage Bay, kayak rental available from Agua Verde, 1303 NE Boat Street
Gas Works Park
Located at the north end of Lake Union, this is a great park for beautiful views of the city. Paths wind up the grassy hill, where kite flying is a must. On the Fourth of July, you'll be lucky to see a patch of grass, as this is a prime fireworks-watching location. Unfortunately, the main part of the old coal gasification plant has been fenced in, ending the paintball fights around its remains. You'll just have to watch 10 Things I Hate About You (again) and live vicariously. It's worth seeing in the colder months, too, but it gets extremely windy, so be sure to bundle.
Gas Works Park, 2101 N Northlake Way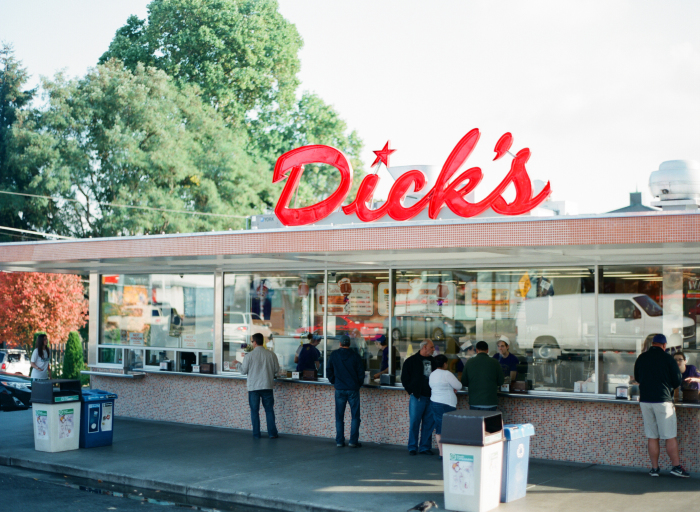 Dick's Drive-In
Esquire called Dick's the most "life-changing" burger in America. This isn't the most gourmet burger in town, but it may be the cheapest and it's certainly one of the most delicious. Just don't try to special order?they've been served only one way since 1954. Dick's is cash only, so plan ahead.
Dick's Drive-In, multiple locations. Original: 111 NE 45th St
Fremont Troll
It's strange and might just give your kids nightmares, but it's a must-see. Found under the Aurora Bridge, the Fremont Troll is 18 feet high and made out of steel rebar, wire, and concrete. Oh, and a VW Beetle. You might recognize it from the movie 10 Things I Hate About You.
Fremont Troll, 3405 Troll Ave N
Revel
Revel is my favorite Asian fusion restaurant by far. While you wait, grab a drink at the adjoining bar, Quoin, and find a spot outside by the fireplace to relax. I recommend trying to sit at the kitchen to watch the chefs prepare the meals in beautiful rhythm. You have to order the short rib dumpling. Have a bite for me. I crave it constantly.
Revel, 403 N 36th St
The Walrus and the Carpenter
This is a really hip oyster bar. For the experience, you have to try some raw oysters?you can order just two. The rest of their constantly changing seasonal menu is delicious and adventurous. The whole meal is an experience as you eat under a gorgeously crafted gigantic antler chandelier. Come wanting to try new things.
The Walrus and the Carpenter, 4743 Ballard Ave NW
Bitterroot BBQ
We finally found fantastic BBQ in Seattle. It was quite the hunt, but here it is. Bring a group and get the Cowboy Killer to share. For the real southern experience, you'll need some cheddar grits and cornbread. We can't stop going back for more. (And we usually fight over who gets the last of the brisket.)
Bitterroot BBQ, 5239 Ballard Ave NW
Alki Beach
Most of the year, you'll have a hard time finding parking, but it's worth it. We find Alki Beach to have a similar feel to the Florida coast in the summer. Enjoy a chilly swim, warm up in the sand, and play some beach volleyball. We've seen driftwood logs turned into seesaws, a long jump competition, and Christmas tree burnings all along the shore. I'd recommend heading over to El Chupacabra for some fish tacos before you leave.
Alki Beach, 1702 Alki Ave SW