I am a Texas girl, born and raised, and have called Austin home for 26 years. I lived in Austin way before it was as cool and hip as it is now! It's been growing into a big city but still holds a lot of small town charm for me.
Read on for our local's guide to Austin!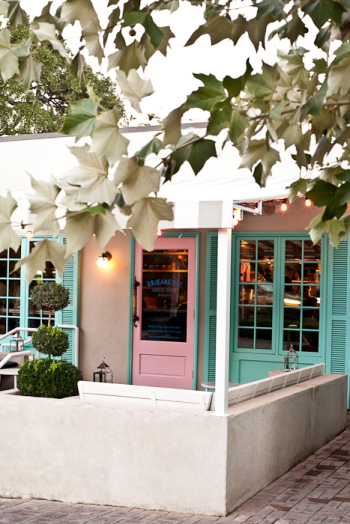 Elizabeth Street Cafe
I would live here if I could! This should be your first meal when you get to Austin, and your last before you leave. Maybe a few times in between too! French Vietnamese cuisine in a sweet bungalow with a pink door. Sip a Shady Blonde on the patio or a Vietnamese Iced Coffee at the bar. Then head to your table for spring rolls, steamed buns and flavorful flank steak bun. Don't forget your eclair on the way out. It's all good.
Elizabeth Street Cafe, 1501 S 1st St
Take Heart
Live on the wild side and visit East Austin, and be sure to stop in at Take Heart for a souvenir or a gift for a friend. A beautiful space filled with so many lovely things, you won't be able to resist purchasing something. It's a shop that represents the creative and entrepreneurial spirit of Austin.
Take Heart, 1111 East 11th St
Lady Bird Lake
One of my favorite things about Austin is that no matter how much the city grows, we still embrace the nature around us. We're in the Hill Country, surrounded by trees and right on the water. It's beautiful and encourages so many different types of outdoor activities. Any day of the week you can see people canoeing, kayaking, paddle boarding or rowing on the Lake. My favorite time to visit is right before sunset.
Lady Bird Lake, 7.2 miles through downtown Austin
Pfluger Pedestrian Bridge
The best way to enjoy Lake and city views are from the pedestrian bridge that runs parallel to Lamar. It's great for biking, walking, jogging, and people watching. Start your walk here and enjoy the trails around Lady Bird Lake.
Pfluger Pedestrian Bridge, connecting Auditorium Shores and Butler Park to downtown Austin
Second Street District
I love what this little stretch of downtown has become. It's one of my favorite streets to stroll, with its lit trees and many boutiques. There are quite a few amazing restaurants to choose from, many of which have outdoor seating so you can really enjoy the city life.
Second Street District, between Colorado St and San Antonio St
Lambert's
Lambert's is just one of the many places to dine in the 2nd Street District. Housed in a historic building on the corner of a block dominated by an office building and parking garage, it was one of the earliest places to open when 2nd street began it's transformation. It's what you would call fancy BBQ, and it's delicious. You can't go wrong with their Spicy Deviled Eggs, Brisket, and Baked Mac and 3 Cheeses. The atmosphere isn't what you'd expect from a BBQ joint but it's still welcoming.
Bonus: if you're looking for the BBQ served on butcher paper with white bread, check out Rudy's or Iron Works.
Lambert's, 401 W 2nd St
24 Diner
Breakfast all day? Yes, please! Diner food done right. Get the waffles, you won't be disappointed.
24 Diner, 600 N. Lamar Blvd
Book People
Two stories of books. Need I say more? This place is quintessentially Austin and a great spot to meet friends, wander aimlessly, get a gift, or buy a book (or two or three) for yourself. You may even see someone famous if your nose isn't too buried in a book.
Book People, 603 N. Lamar Blvd
Caffe Medici
Austin has many great places to get a cup of coffee but for us, it's Medici. They use beans from a local roaster—even better!
Caffe Medici, 200 Congress Ave
Chuy's Tex Mex
You can't come to Austin and not have some Tex-Mex! Everyone has their choice spot for Tex-Mex, but for me it's Chuy's. Be sure to ask for some Creamy Jalapeno dip when they bring out your basket of chips.
Chuy's Tex Mex, 1728 Barton Springs Rd
SoCo
Congress Avenue is home to the Capitol building, a bat colony and an area of town called SoCo. Like the 2nd Street District, it's lined with shops and restaurants. SoCo is a great example of the "Keep Austin Weird" vibe with its small businesses in historic buildings. Find a parking spot and get out and walk, its the best way to see it all.
Capitol/SoCo/Congress Avenue, from Johanna to Gibson Sts.
Big Top Candy Shop
Give into your sweet tooth with a visit to this SoCo shop. A drink from their old-fashioned soda fountain is perfect on a hot summer day.
Big Top Candy Shop, 1706 South Congress
Uncommon Objects
Its name says it all—different vendors filling the space with their unique treasures. You'll end up spending more time in here than you think!
Uncommon Objects, 1512 South Congress
HomeSlice Pizza
HomeSlice is one of the many restaurants on South Congress and it is totally worth the wait. New York style pizza by the pie or the slice. My favorite is the sausage, ricotta cheese and red pepper pizza… that is, if I haven't filled up on garlic knots first.
HomeSlice Pizza, 1421 South Congress
Gourdough's
Austin has its fair share of food trucks and trailer eateries but one of my favorites is all about donuts. Crazy donuts. Gourdough's on S. 1st is where you should begin your food truck education. Try the Mother Clucker (fried chicken anyone?) or Flying Pig (bacon!). Maybe you'll have room for the Funky Monkey.
Gourdough's, 1503 S 1st St