My husband and I had just spent an eventful month travelling from Croatia through Montenegro and Albania, and after spending each day moving about and discovering the beautiful sights of these places, we wanted our last spot to help us completely unwind. Because our criteria was to spend all day lying on the beach and eating great food, ending the holiday in Corfu was the perfect answer!
We caught the ferry over from Saranda, Albania and after doing a little research decided to by-pass the party town to the south and instead head to the north of the island. Here we found stunningly beautiful coves which were peaceful and contained some of the best restaurants on the island. A friend had given us a recommendation to try Kalamaki beach but we saw a sign for a beach with a similar name and assuming this was the one, we stumbled onto a small beach with perfectly clear aqua water and a small restaurant serving home style Greek food. With a bottle of ouzo in our beach bag we ended up spending quite a few days enjoying the sun and a few sundowners on this beach.
Another drive took us to the original beach we were told of (Kalamaki), where the jetty stretches out a great length into the water and has views back over the Albanian mountains.
For our second to last day we decided to try the well-known restaurants of Agni beach, starting the day quietly resting on sun loungers to see a number of yachts pulling in for their lunchtime at the Taverna Agni. We hurried to get a table and spent the next few hours admiring the view while licking our fingers over saganaki prawns and fresh fish. The ubiquitous Greek salad and house wine helped while away the hours of early afternoon. Stomachs full and skin tingling from the salt water and sun, we crossed the island to the West to watch the sun set over craggy cliffs dominating the coast line. As the light grew dim we headed down to the old town to see locals going for their typical evening promenade and fisherman settle in for the night. Our final day we headed back to say goodbye to our favorite cove and go for a quick dip, sadly it was September and the summer was coming to an end. Corfu was the perfect restorative holiday end for us!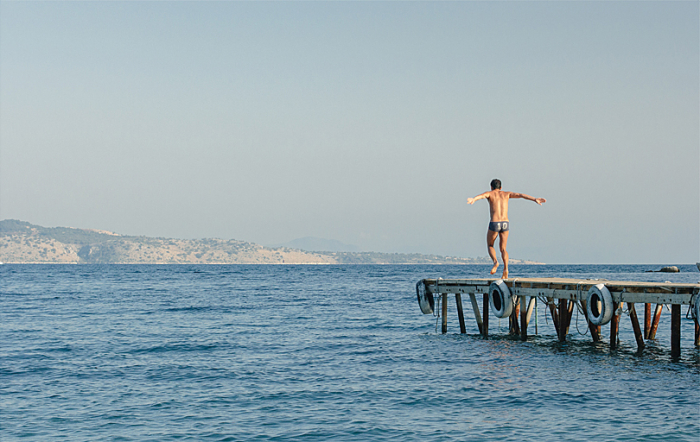 Stay
Pantokrator Hotel
49083 Barbati, Greece
+30 26630 91005-6
Lisa Pires is a Fine Art Lifestyle, Portrait & Wedding Photographer from Sydney, Australia. She travelled to Corfu as part of a one-month trip on her way home to Sydney after living in London for four years. Lisa uses digital and film mediums for her work, particularly enjoying the beautiful colors and tones created in film photography on her Mamiya and Contax cameras. She has also been bitten hard by the travel bug and spends most of her free time scouring travel blogs and planning her next overseas trip. You can view her travel photos from around the world on Instagram @lovenotephoto.