Lights twinkled from the surrounding mountains and greeted us in our quick decent into Quito's airport, one of the highest elevated airports in the world. The silhouettes of the mountains were illuminated against the night sky as many of us had our passport stamped in a foreign country for the first time. That night we enjoyed a group snack of bread baked in banana leaves and freshly squeezed fruit juices at the Hostal Otavalo Huasi II in downtown Quito. We bonded with each other and took in the beauty of the colored blankets on our beds; the enchanting city and country that remained very much a mystery outside our windows.
The next morning we were off to Santo Domingo de los Colorados, a city 133 km from Quito, through the cloud forest and countryside landscapes of Ecuador. We arrived at our home for the next four days, Casa Diocesana Santa Rosa in Santo Domingo. The building was once a convent and charmed us with its beautiful long, tiled hallways and lush gardens. After dropping our bags we went directly to Hombro A Hombro Medica Centra, a rural medical center that has a partnership with the University of Kentucky. Some of us spoke Spanish and some of us didn't, but we banded together in the heat of the afternoons to scrub mold off the outside walls and repaint a mural inviting locals into the clinic for much-needed medical care. Children from the community would come up and help us paint, so we joined them in putting our hand prints on the wall together to form a heart. In addition to painting the mural and painting a gazebo just inside the gates, we also took a tour of the local community and school, where we donated books for the students.
There are several tribes of indigenous people in Ecuador and one of the best-known groups is located just outside Santo Domingo. The Tsachillas, a tribe of only a few thousand people in about seven villages, are a very private society that rarely leaves their communities. One day we were privileged to go into their village and learn about their culture. We were made a home cooked meal of fresh tilapia seasoned and cooked in banana leaves, boiled plantains and freshly squeezed fruit juice. The men then took us into the jungle where they chopped down bamboo and thatched the ceiling by weaving leaves together. We also enjoyed traditional music played on a unique type of xylophone and drums. The tribe is known for their red hair, which is a dye produced from the achiote plant. It was an amazing experience to see them prepare and apply the achiote to their hair. The women also showed us how they paint the black lines on their bodies with another plant, which goes on clear and then over time stains the skin a dark black which remains for several days. We ended the day roasting cocoa beans, building a raft, and damming a small stream to create a fish trap. It was such an amazing day and it truly opened our eyes to a culture rich in tradition and amazing people.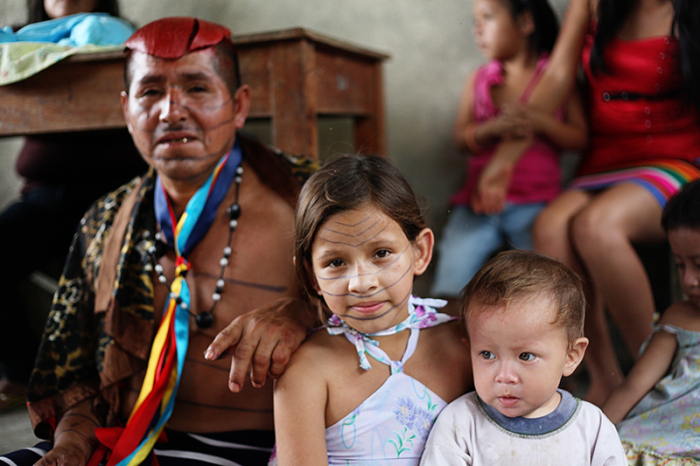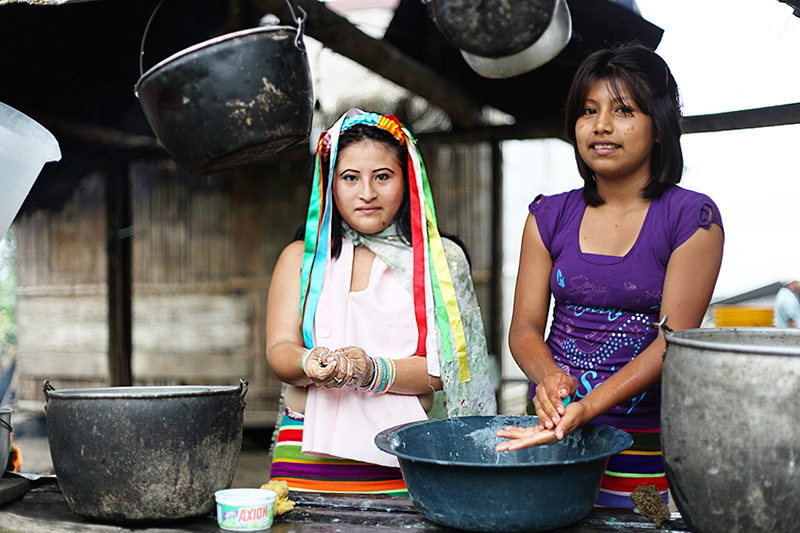 Over the last two days of our trip we visited the Jardin Botanico at the local University, where we were able to see lush gardens full of incredible flowers and wildlife. After visiting the University we then stopped by a local orphanage called Casa Hogar De Jesus where we were able to play with the children and learn about the education system for orphans. The boys were so kind and excited and it really showed how much joy can come from something so small.
Our next adventure was to Mindo where we enjoyed local food (including a soup topped with popcorn!), shopping, and an awesome afternoon of zip lining through the cloud forest. We experienced amazing brownies made from local cocoa, and took in the atmosphere of the jungle in hammocks at our hotel. On our final day we visited Mitad del Mundo (Center of the World and also known as the equator!), for tourist photos and last minute souvenirs before heading back to the United States.
The trip only lasted a week but was an amazing way to serve, see and experience so many different aspects of an incredible country. It was humbling to see the joy and appreciation for such small gestures and to gain so much from seeing the way others live. Ecuador may not be the world's wealthiest country, but it is rich in good spirit and hard working, lovely people. The fresh fruit juices are beyond amazing and the flora and fauna is unparalleled to anything I've seen in the United States.
Stay
Hostal Otavalo Huasi II
Wilson 183 y Jose Tamayo,
Quito, Ecuador
+02.250.2435
Casa Diocesana Santa Rosa
Av. Santa Rosa, 0000000000000,
Santo Domingo, Pichincha, Ecuador
+59.32.275.9099
El Gallo de la Pena
Parroquia de Mindo, Km. 78 Via Calacali / La Independencia,
Mindo, Ecuador
+02.217.0129
Helpful Hints
In search of a relaxing escape from Santo Domingo? We suggest a trip to the Jardin Botanico at the Universidad Catolica.
The Details
Our trip took place during March 2012 as an Alternative Service Break (ASB) trip from the University of Kentucky, where we would spend our spring break serving others in collaboration with the group Shoulder to Shoulder Global. Shoulder to Shoulder Global is an organization created within the University of Kentucky which incorporates other academic and community partners and seeks to improve the health and well-being of impoverished and underserved communities globally.
The University of Kentucky sends an ASB group to the clinic annually and also sends physical therapy student brigades to the same medical clinic and Tsachilla community several times a year. For more information about the Ecuador trip and other ASB trips you can visit their website. The website can also direct you toward more information about the Shoulder to Shoulder Global organization.
Sabrina Hounshell is an international portrait and wedding photographer from Lexington, Ky. In addition to photography and traveling the world she loves riding her bike, sour candy, coffee and snuggling with her cat. Follow her adventures on Instagram @SeriouslySabrina.